M. Night Shyamalan And James McAvoy's 'Split' Set For 2017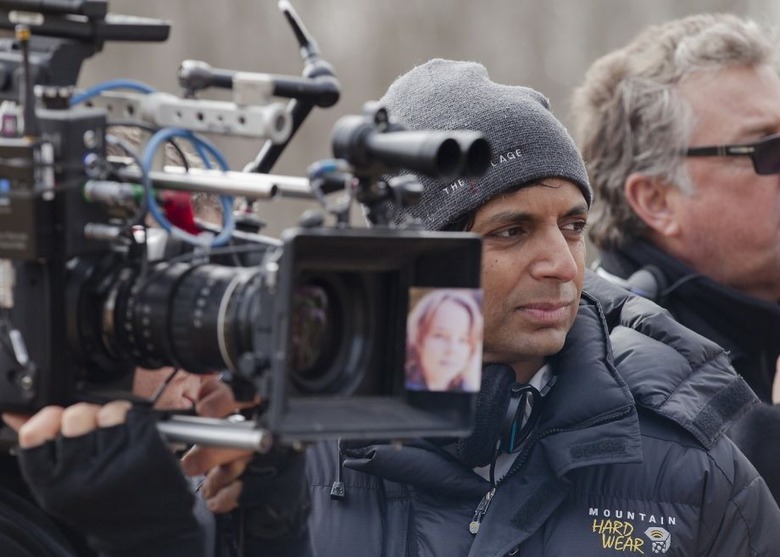 While The Visit stopped short of restoring M. Night Shyamalan to his Sixth Sense heyday, it was, at least, a step in the right direction for the once-hyped filmmaker. It earned him his strongest reviews in years, and (thanks to its $5 million budget) turned a tidy profit for studio Universal.
Whether he'll keep that momentum going with his next film remains to be seen, but at least now we know when we'll find out. Universal has just set a 2017 release date for his upcoming project with James McAvoy, now titled Split. More on the Shyamalan 2017 release date after the jump. 
As announced today, Split will open January 20, 2017. The project reunites Shyamalan and Universal Pictures with Jason Blum's Blumhouse Productions, after collaborating on The Visit. Marc Bienstock will produce Split, while Ashwin Rajan and Steven Schneider serve as executive producers. Split takes over the January 27, 2017 date previously earmarked for an untitled Blumhouse release.
The film currently has no direct competition on the January 20 date, though it'll be facing off against the second weeks of a number of high-profile releases including Ron Howard's Stephen King adaptation The Dark Tower, Paramount's Friday the 13th reboot, and Lionsgate's Power Rangers.
Split is described as "a suspense thriller with elements of the supernatural." Further plot details remain shrouded in mystery. Besides McAvoy, who replaced Joaquin Phoenix in the lead a few weeks ago, Split also stars Anya Taylor-Joy (the breakout star of this year's Sundance horror hit The Witch), Jessica Sula (Skins U.K.), Haley Lu Richardson (The Bronze), and Betty Buckley (The Happening).
Blumhouse Productions has a reputation for dirt-cheap films that make their money back several times over. The formula isn't foolproof – Jem and the Holograms tanked hard this past weekend — but it seems to succeed more often than not. It's why Shyamalan's The Visit is considered a solid hit, even though its $89 million gross actually makes it one of his lowest-grossing films.