John Woo Still Wants To Remake 'The Killer'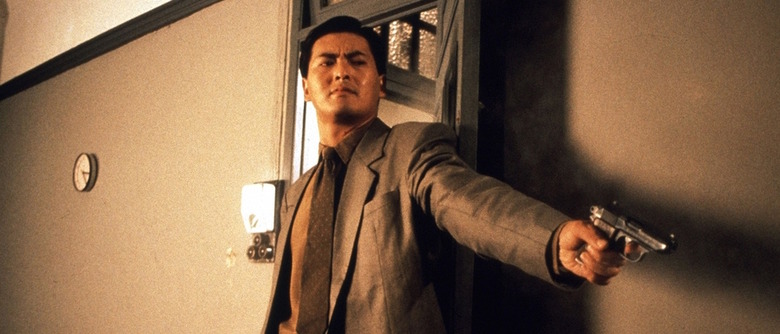 John Woo has been wanting to remake his own classic The Killer for a while now, and he has not forgotten about those plans. The filmmaker says his next project is Manhunt, described as a hard-boiled actioner that recalls his earlier work, but after that, he's finally getting around to that English-language The Killer remake. Read his comments after the jump. Screen Daily caught up with Woo at the Tokyo International Film Festival, and asked him whether he planned to return to Hollywood. Woo responded:
I have never left. I still enjoy working with Hollywood. I still have a couple of projects developing in Hollywood. So after Manhunt, I probably will go back to Hollywood to make another action thriller. I'm going to make The Killer in an American version.
His specific wording makes it unclear whether he plans to direct the Killer remake, or just produce. The project has been in the works for a while now, and at one point had South Korean filmmaker John H. Lee set to direct. According to Woo, Lee's version of The Killer was going to have a completely different story. In any case, Lee wound up dropping out when the financing took too long to come together.
Released in 1989, The Killer starred Chow Yun-fat as an assassin who accidentally blinds a woman while on the job. He decides to take on one last hit in order to get the money to pay for her eye surgery. The Killer launched Woo to international fame, which in turn led him to Hollywood to direct films like Broken Arrow, Face/Off, and Mission: Impossible II. But he hasn't directed an American movie since 2003's Paycheck, and returned to China with 2008's Red Cliff.
Whether a remake of The Killer is the best choice for his return to American cinema is up for debate. The film is a bona fide action classic which influenced so much of what came after it, in both Hong Kong and the U.S. It still holds up, but that makes a remake seem even more pointless. Then again, we should probably wait and see what he has planned before casting judgment.
As for Manhunt, Woo's other pending project, he says, "It's a bit like going back to my own style. It's a criminal story, with love and guns – and maybe some pigeons." It's a remake of the Jun'ya Satô's 1976 crime pic starring Ken Takakura, and will draw from the same source material, Juko Nishimura's novel Kimi yo Funnu no Kawa o Watare. The story revolves around a police detective must clear his name of crimes he didn't commit. Shooting on Manhunt is expected to begin in Japan this winter.
And lest you worry that Woo will run out of steam before he gets to both films, fear not — he doesn't plan to slow down anytime soon. "It's in my blood. I have never thought about retiring," he said. "As long as I can still walk, still think, I will continue to make movies."