Ricky Gervais Confirmed To Host Golden Globes A Fourth Time In 2016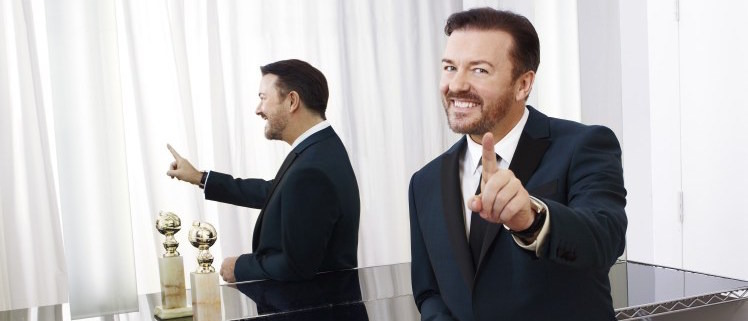 Tina Fey and Amy Poehler have repeatedly stated that the 2015 Golden Globes would be their last time hosting, so the HFPA has gone and dug up another recent emcee for next year's ceremony. Ricky Gervais will be back to host the 2016 Golden Globes, following a three-year stint from 2010 to 2012. More on the Ricky Gervais Golden Globes 2016 news after the jump. 
The HFPA has officially announced Gervais will host the ceremony taking place Sunday, January 10, 2016. The news comes just days after the Academy confirmed Chris Rock, who hosted the 2005 Oscars, would preside over the 2016 ceremony.
Psssst!#HesBack#GoldenGlobes pic.twitter.com/KqBIsVMkQt

— Golden Globe Awards (@goldenglobes) October 26, 2015
Gervais' return comes after three consecutive years (2013, 2014, 2015) of Fey and Poehler as the Globes emcees. Following his last turn as host in 2012, Gervais publicly insisted he would not host again. Then again, Gervais also said the same thing in 2011 only to find himself back onstage the following year.
His three previous performances as host were marked by his barbed sense of humor. Some enjoyed watching Gervais take Hollywood down a peg, while others (including the HFPA's then-president Phillip Berk) felt Gervais had "crossed the line." In short, prepare yourself for a thousand "Did Ricky Gervais go too far?" thinkpieces come Monday, January 11.
But either time heals all wounds, or Gervais' knack for creating viral moments does. "Tina and Amy are a hard act to follow but Ricky is completely fearless and entirely up for the job," said Paul Telegdy, NBC's president of alternative and late-night programming. "His off-the-cuff wit and quirky charm will surely have the room and audiences around the world at the edge of their seats," added HFPA president Lorenzo Soria.
Having a host at all is a relatively recent development for the Globes. When Gervais made his debut in 2010, he was the first person to host the ceremony since John Larroquette and Janine Turner became the first-ever hosts in 1995.
While we wait for Gervais' return to the stage, revisit his appearance at the 2015 Golden Globes hosted by Fey and Poehler.
[Source: Deadline]