'Super Troopers 2' Is Shooting Right Meow; See The First Set Photos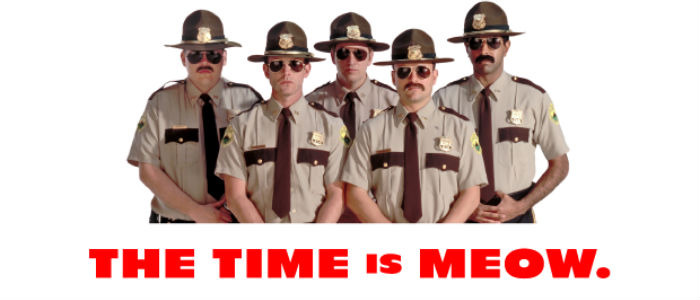 Break out the maple syrup: Shooting is officially underway on Super Troopers 2, more than 13 years after the first film hit theaters. Jay Chandrasekhar, Kevin Heffernan, Steve Lemme, Erik Stolhanske, and Paul Soter all return as Vermont's goofiest state troopers, and Chandrasekhar once again directs. See the first Super Troopers 2 set photos after the jump. 
The Broken Lizard guys have been promising a Super Troopers sequel for years, so you'd be forgiven if you didn't quite believe it was happening this time around either. But it's for real, and they've got the pictures to prove it. Here's some photographic evidence from Stolhanske (Rabbit).
Chandrasekhar (Thorny) shared his excitement on social media as well.
First day on Super Troopers 2. pic.twitter.com/tHsrSKdqgE

— Jay Chandrasekhar (@jaychandrasekha) October 23, 2015
As did Lemme (Mac), pictured here with Heffernan (Farva).
On the set of #SuperTroopers2 with Farva @HeffernanRules pic.twitter.com/uZiISF6wpd

— Steve Lemme (@SteveLemme) October 23, 2015
Heffernan, meanwhile, got Chandrashekar to pose with a familiar-looking vehicle.
Dusted off the car. Time to shoot. @jaychandrasekha @brokenlizard pic.twitter.com/L2520MiYTU

— Kevin Heffernan (@HeffernanRules) October 24, 2015
After some rough spots, Super Troopers 2 really began picking up steam this spring with an Indiegogo campaign. The idea was that they'd only move forward if they could raise $2 million or more, thus proving to distributor 20th Century Fox that were enough fans to make a sequel worth it. The campaign hit that mark within a single day. In the end, they got $4.5 million from Indiegogo supporters.
Plot details haven't been revealed, though an August campaign update promised some hot-and-heavy action. "For anyone who doesn't know, two of the Lizards are making out with each other in this movie," said the post. "There's also going to be more male nudity – we're still giving back to the ladies after all these years." Mustache rides for all!
Super Troopers 2 doesn't yet have an official release date. With shooting just getting underway meow, it seems likely to land sometime next year. In the meantime, whet your appetite with this video of the guys back in character for the aforementioned Indiegogo campaign.