'Sherlock' Victorian Special Reveals New Premiere Date, Title, And Images [UPDATED]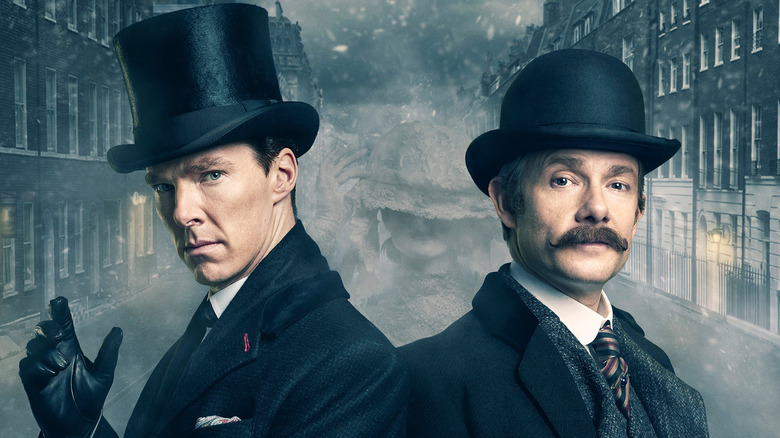 Many mysteries still surround the Sherlock special, but as of today two big ones have been solved. The one-off episode, which sends the boys to Victorian London, has officially announced a title and a U.K. and U.S. air date. Yes, that's date, singular, because for the first time ever, Sherlock is premiering on the same day in both countries. Get the Sherlock special date and title details after the jump.
UPDATE: As promised, the Sherlock special is coming to theaters. Get more details below.
BBC One and PBS announced the U.K. and U.S. Sherlock special date: January 1, 2016. Because what better way to kick off a brand new year than by traveling back 100+ years?
#SherlockPBS: The Abominable Bride premieres 1/1 & encore 1/10 MASTERPIECE @PBS. NEW pics – https://t.co/3az8JwUINo pic.twitter.com/Fi9YrHk7uz

— MASTERPIECE | PBS (@masterpiecepbs) October 24, 2015
UPDATE: In addition, EW reports the Sherlock special will arrive in cinemas January 5 and January 6. The theatrical release will include 20 minutes of extra footage including a guided set tour and a making-of featurette. Tickets go on sale November 6 at Fathom Events.
That newly revealed title – Sherlock: The Abominable Bride — should be an intriguing clue for Sherlockians dying to figure out what the special will be about. Showrunner Steven Moffat has previously teased that it would be a ghost story, and that it would be a one-off episode. Otherwise, details are being kept under wraps.
Why a ghost story? "The main difference I would say, the only temperature change moving it from Victorian and Modern is ghost stories work better in the Victorian setting," he said at the TCA press tour this summer. "[Arthur Conan Doyle] stories that are scary chillers we haven't done much. Victorian era gives us a chance to do a creepy one, a scary one."
Sherlock (Benedict Cumberbatch) and Watson (Martin Freeman)'s sudden move from the present day to the past seems like a juicy supernatural puzzle in itself, but that's one Moffat has no interest in unlocking. "[We did this] just because we can, really," he said. "We said, 'Could we maybe do one scene or a dream sequence?' Then we said why don't we just do it? We never bothered explaining why he's in modern day London. Why explain why we're in Victorian [London]?"
There is also what is technically a new trailer for the Sherlock special. In actuality, it's the same exact trailer that ran earlier this month, only this time with the new title and air date.
Perhaps more interesting is the new batch of photos released with the Sherlock special date and title info.
As great as it is to know we're getting a new episode of Sherlock in exactly 68 days, fans are no doubt wondering when Sherlock and Watson will return to modern-day London for Season 4. Well, there's good news on that front, too: Filming begins in spring 2016.
Series 4 of #Sherlock will start shooting next spring. Steven Moffat and @Markgatiss are busy writing away right now.

— BBC One (@BBCOne) October 24, 2015