Watch: Marty McFly And Doc Brown Celebrate Back To The Future Day On 'Jimmy Kimmel Live!'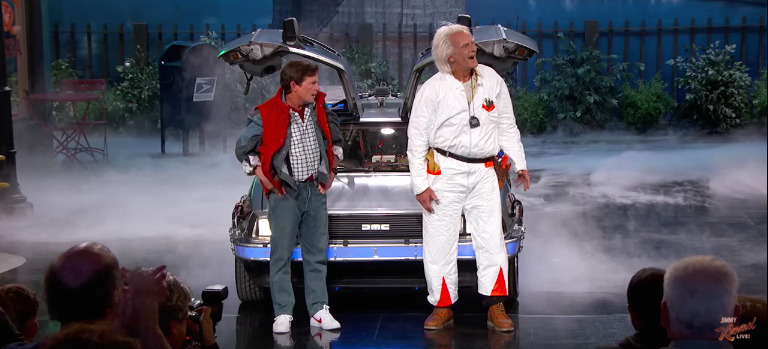 Jimmy Kimmel may have had the best Back to the Future Day of any of us. Because his, you see, ended with an actual visit from Marty McFly and Doc Brown. The pair dropped by the Brooklyn stage of Jimmy Kimmel Live! in their DeLorean last night, and Jimmy got to be the one to break all the bad news about 2015 to them: no, we don't have flying cards, hoverboards, or peace in the Middle East, and Johnny Carson has long since passed away.
On the bright side, though, we do have smartphones, selfies, and cronuts. And real Nike Mag shoes with power laces, as demonstrated by one Michael J. Fox ("Teen Wolf!" Marty exclaims excitedly). See the Back to the Future Jimmy Kimmel show after the jump. 
Marty McFly and Doc Brown made quite the entrance on Jimmy Kimmel Live!. There's traveling in style, and then there's rolling up in an iconic time machine. Unfortunately, they don't seem too impressed with what humanity has made of itself in the past 30 years. "I believe we may have inadvertently traveled into an alternate 2015 where human evolution has been stopped by superfluous technology, and Biff reigns supreme," Doc tells Marty.
While Doc wandered off to try and fix this terrible future, Fox came on to show off his Nike Mags. You can actually see the power laces in action below.
As we reported yesterday, the Nike Mag shoes will be available through auction starting next spring, with proceeds going to the Michael J. Fox Foundation for Parkinson's Research. You can be sure we'll post more details as they're announced. (Prefer more classic-style kicks? The Nike Bruin, which Marty wears in 1985, are also currently on sale from Nike.)
Moving on, Fox also discussed the making of Back to the Future, and had some laughs about how Donald Trump-y the film's version of a 47-year-old Marty McFly looked.
And here's Fox commenting on the Marty McFly action figure.