'Mythbusters' Cancelled After 14 Seasons, Watch Adam Savage And Jamie Hyneman Say "Goodbye"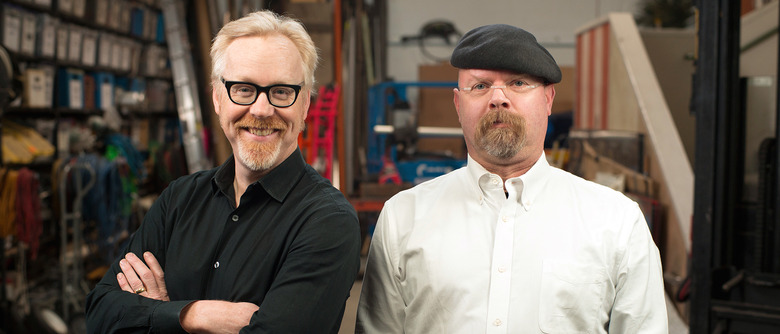 Update From Editor Peter Sciretta: Watch Mythbusters hosts Adam Savage and Jamie Hyneman say their goodbye to fans after the show's 13 season run after the jump.
Here is the tweet and video message posted by Adam Savage:
ICYMI here's our farewell message & sneak peek at our final season. Thank you SO much for your years of support.https://t.co/fx83ZIPAUQ

— Adam Savage (@donttrythis) October 27, 2015
Angie Han's original story from October 21st 2015 below:
Here's one myth we're sad to confirm: Mythbusters will end next year, as announced by Discovery. Adam Savage and Jamie Hyneman have hosted the reality show for 13 seasons, with the 14th and last to kick off in January.
Discovery confirmed the cancellation of Mythbusters in a statement. "After 248 episodes, 2950 experiments, 1050 myths, and 900 explosions, hosts Adam Savage and Jamie Hyneman will say goodbye to the series this winter," said the network. 14 seasons is a good run for any show, admittedly, but it's still sad to see a pop culture staple go. Mythbusters' farewell season debuts January 9, 2016.
The news does not come as a surprise to its hosts, and in fact the pair have already begun preparing for the end. "It was my greatest fear that Mythbusters would just stop and we wouldn't be able to do proper final episodes," said Savage. "So whether it's myths about human behavior or car stories or explosion stories, we tried to find the most awesome example of each category and build on our past history."
Hyneman concurred in a separate interview. "[We] were part of that decision," he said. "We felt like we've had really strong material for the whole run. It's been 14 years and its just time. We want to go out on a strong point." For the final season, he added, "We've tried to go as deeply as possible into the things we're doing, and gave them the respect and care they deserve."
That said, Savage admitted he has mixed feelings about the end of Mythbusters. "I can tell you I've been going through all the Elisabeth Kubler-Ross stages of grief – anger, acceptance, denial – it's all been happening," he said. "There is also some release. I'm tired." And Hyneman offered some thoughtful reflection on what he's accomplished with the series: "We have pointed out how fun and creative and thought-provoking science and experimentation can be. The rest is all fluff."
For much more from Savage and Hyneman — including comments about their future plans, and candid thoughts about each other and their (famously not very friendly) relationship — go to EW.com.
And while we wait for the end, let's take a look back at some of the team's movie- and TV-related greatest hits.