'Cruel Intentions' TV Series In The Works, Will Be A Sequel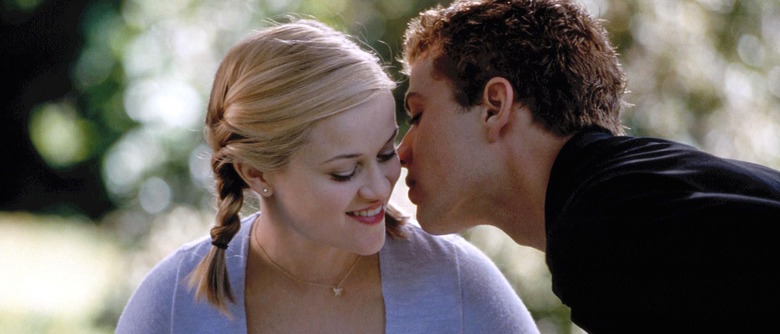 In retrospect, the return of Cruel Intentions seems as predictable as the plot of Cruel Intentions itself. Everything else we loved in the '90s is getting resurrected, so of course we should've known that'd include this salacious 1999 teen drama. To be more specific, NBC is the one bringing Cruel Intentions back, as a TV series that'll serve as a sequel to the original movie. So... how does that work, exactly? Find out after the jump.
Deadline reports NBC has ordered a pilot script for the Cruel Intentions TV series. The story follows Bash Casey, the son of Sebastian Valmont and Annette Hargrove from the first film. He leaves behind his small-town Kansas upbringing for a scholarship at the prestigious (and sexy, and filthy-rich, and corrupt) Brighton Preparatory Academy in modern-day San Francisco, and starts to uncover the family legacy when he discovers his dad's journals.
Said family legacy, if you need a refresher, includes the reveal that his dad (played by Ryan Philippe in the movie) was a notorious teenage Lothario who fell for his virginal mom (Reese Witherspoon) after trying to seduce her at the behest of his naughty mean-girl stepsister (Sarah Michelle Gellar). Sebastian actually dies at the end of that movie, so I guess he knocked Annette up during the one time they had sex.
Here's a super romantic scene of Bash's aunt convincing Bash's dad to bone Bash's mom:
There are so, so many ways a Cruel Intentions TV series could go terribly wrong, but there's reason to be optimistic about this one. The show's executive producing team includes the original film's writer and director Roger Kumble, who'll helm the pilot, and producer Neal H. Moritz. Also on board as co-executive producers are Lindsey Rosin and Jordan Ross, who put on The Unauthorized Musical Parody of Cruel Intentions earlier this year with Kumble's blessing.
Cruel Intentions is based on a much older tale, the 18th century novel Les Liaisons dangereuses by Pierre Choderlos de Laclos. The story has been adapted time and time again for the screen. Notable movie versions include Stephen Frears' 1988 Dangerous Liaisons starring John Malkovich and Glenn Close; a 1999 French film directed by Roger Vadim and starring Gerard Depardieu; and a 2003 adaptation by E J-yong which moved the action to 18th century Korea.
The plot shouldn't be that hard to figure out, since Cruel Intentions really just runs on a heady combination of sex, power, and obviously ill-advised bets. NBC's challenge will be replicating its gleefully trashy tone, and making it stand out in a TV landscape where scandalous teen soaps like Gossip Girl have already come and gone, and where Shonda Rimes has built an entire empire on OMGWTF moments — all while adhering to the strict standards of a broadcast TV network.
This actually is not the first time someone's tried turning Cruel Intentions into a TV series. Back in 1999 (hot on the heels of the success of the original movie) Fox ordered a prequel titled Manchester Prep, only to cancel it before broadcasting a single episode. The footage that had already been shot was reworked and released as a direct-to-DVD movie called Cruel Intentions 2 in 2000.
That ill-fated prequel might have faded into total obscurity by now were it not for the fact that it just happened to star future five-time Oscar nominee Amy Adams, thus guaranteeing a long second life as a bar trivia answer.
There was also a Cruel Intentions 3 released straight-to-DVD released in 2004, which followed the collegiate adventures of Kathryn Merteuil's cousin Cassidy. But that one has yet to yield any A-list Oscar nominees, so no one talks about it. Here's the trailer anyway.