There Are 350 CG Shots Of Paul Walker In 'Furious 7'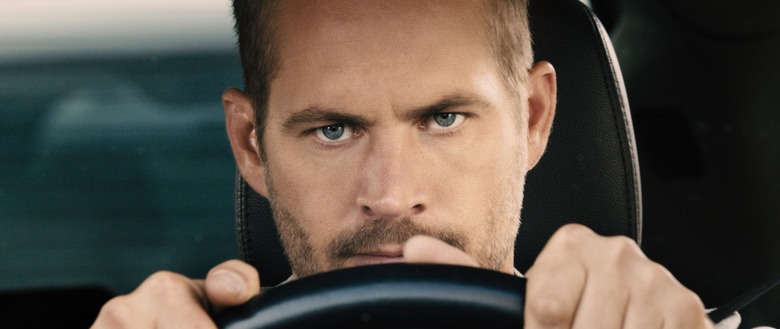 It's kind of a miracle Furious 7 turned out so well. After the tragic loss of actor Paul Walker, nobody knew where that left the unfinished film. Would it be reshot? Scrapped altogether? In the end, Universal, director James Wan (The Conjuring), and all involved worked with Weta to finish Paul Walker's scenes. Read more about how they did it after the jump.
Understandably, Wan didn't want to speak too much about the matter when the film came out back in April.
I'm not gonna say specifically what was what, because I think it's very important that people go into this movie not fixated on trying to work out which is Paul, which isn't Paul. I want them to just watch the movie and enjoy the film and be caught up in the emotion of it all. We worked so hard so that they don't have to do that. And so I think that's very important and I don't wanna kind of fuel that fire so to speak. Maybe years from now, I'll talk about it or maybe at a later day on the track. But needless to say, yes, I wanted to use as much of real Paul as I could.
Variety just published a piece detailing how WETA went about recreating the actor's performance. There are 350 CG shots of Paul Walker in Furious 7 — some of which are noticeable, some of which are not. There's a few scenes in the film where the camera is obviously avoiding a close-up, but, for the most part, the recreation of Walker works. More importantly, it's respectful.
Weta Digital senior VFX supervisor, Joe Leterri, had this to say about the process:
"We had to complete a performance — what Paul Walker would have done if he'd been able to continue. And it had to be his performance." Letteri said there was no way to do this without closeups because "anything else would have shortchanged his performance and the film.
There were no scans of Paul Walker to create a digital double, which is what's done for motion-capture. WETA's team studied old footage of Walker's performance as Brian O'Conner, watching outtakes from Furious 7 and the past films in the franchise. They also scanned Walker's brothers Cody and Caleb, in addition to actor John Brotherton. Weta crafted digital models of Walker, and then motion-captured Cody, Caleb, and John's performances, reapplying them to Walker's digital model.
When Leterri was asked if this all could've been accomplished five years ago, he sighed and had this to say:
No. It was barely possible last year when we did it.
For even more details on how Wan, Weta, and the rest of the team worked to do right by Walker's final performance, read the full in-depth piece at Variety.