'Gilmore Girls' Revival In The Works At Netflix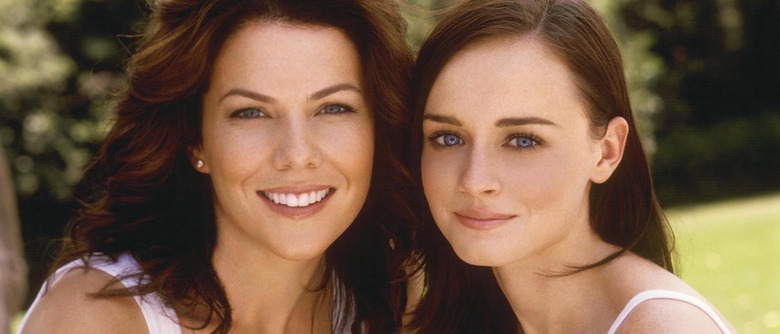 Back in the olden days, when a show ended it just ended. Maybe once in a blue moon it'd get a last-minute save from another network, but once the actors and producers and writers moved on, that was it. And the end came for all shows eventually, even the really popular ones.
But that was then, this is now. In 2015, a show isn't really dead until every single streaming service has turned it down, and even then the possibility that it might return at some point down the line remains. Case in point: Netflix has revealed plans to bring back Gilmore Girls for a new season, nearly a decade after the last episode aired. Read about the Gilmore Girls revival after the jump.  
THR reports Netflix is currently in negotiations for a Gilmore Girls revival. The new episodes would bring back stars Alexis Bledel and Lauren Graham, along with — yes fans, you can breathe a sigh of relief – series creator Amy Sherman-Palladino and her husband, executive producer Daniel Palladino.
The original Gilmore Girls starred Graham and Bledel as Lorelai and Rory Gilmore, a mother and daughter living in the idyllic town of Stars Hollow. The series aired for six seasons (2000-2006) on The WB under Sherman-Palladino. But she and Palladino exited before the show's seventh and final season on The CW, owing to contract disputes with the studio. The Gilmore Girls revival will finally be her chance to get in the last word, or rather the last four words.
The drama was an early stop in the careers of many well known actors including Melissa McCarthy, Jared Paladecki (Supernatural), Milo Ventimiglia (Heroes), Liza Weil (How to Get Away With Murder), Adam Brody (The O.C.), and Sean Gunn (Guardians of the Galaxy). At least some of the original cast members will join Graham and Bledel in the revival, though McCarthy is not expected to be one of them.
Netflix picked up existing episodes of Gilmore Girls to stream last year, and clearly it's been a boon for the service. The new Gilmore Girls revival is envisioned as a series of four 90-minute movies, as opposed to a more traditional 10-episode series. None of the actors are locked in quite yet, but that should change soon as production is slated to begin in early 2016.