Watch: Banksy's Dismaland Is Closed, But You Can Still Experience It With "The Official Unofficial Film"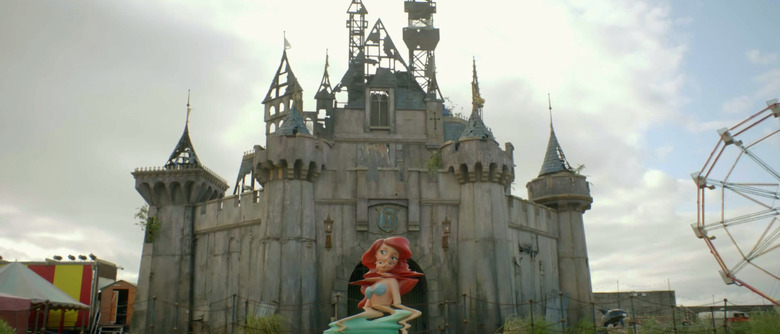 Banksy's Dismaland is closed for good. The dark twist on Disneyland — or an honest depiction, if you loathe the place – highlighted the works of artists Damien Hirst, Jenny Holzer, and others. It's one big interactive art piece. For all of you who were lucky enough to have visited Dismaland, damn you. For those of us not fortunate enough to have attended, thankfully there's plenty of photos and videos for us. Watch Dismaland: The Official Unofficial Film after the jump.
The exhibit ran for just over a month in Weston-super-Mare, U.K. The park featured wonderful sights, like a Cinderella-esque pumpkin with a dead princess, and other imagery that's not suitable for uncool children. Here's the trailer they released for the park in August:
Dismaland was a great success, both creatively and financially: the park attracted 4,000 attendees every day; it brought $30.4 million dollars of revenue and investment into the local economy; and hotels saw a 50% increase in business. Dismaland has done more good than that, too, as the remains of the project will help shelter refugees in Calais, France. It's going to a take a total of three weeks to dismantle Dismaland, and after that, the timber and fixtures will go to the camp.
150,000 people got to see Dismaland in-person. Filmmaker Jamie Brightmore journeyed to the theme park a few times to capture the exhibit on film. Brightmore says that "as depressing as it looks, the park is actually a lot of fun, and it's all too easy to for­get about the under­ly­ing mes­sages being presen­ted."
Here's the unofficial film Brightmore directed:
Brightmore was kind enough to write up a detailed post on his experience at Dismaland. Here's some of what he had to say about his experience:
There's nothing more fun than a little social commentary, decaying castles, creepy puppets, and depressed unicorns. When I first heard about Dis­ma­land my ears lit-up. The place looked set to be an amaz­ing play­ground for mov­ing image expression, I immediately wanted to film it. With a strong his­tory of banging the refresh but­ton, I man­aged to score some ini­tial even­ing tick­ets for me and some friends. In typ­ical fash­ion, it's abso­lutely pissed it down. That's fine, I thought, cosy late sum­mer nights is not what this is about. Water and cam­eras how­ever are not a match made in heaven, but a seasoned out­door film­maker makes do with what he can and I got a couple of shots in the can, with my tri­pod I might add. More import­antly, this open­ing sea­son trip also gave me an oppor­tun­ity to revel in the spec­tac­u­lar art on show, and reccy the site.