'Freaks Of Nature' Red-Band Trailer: Vampires And Zombies And Aliens, Oh My!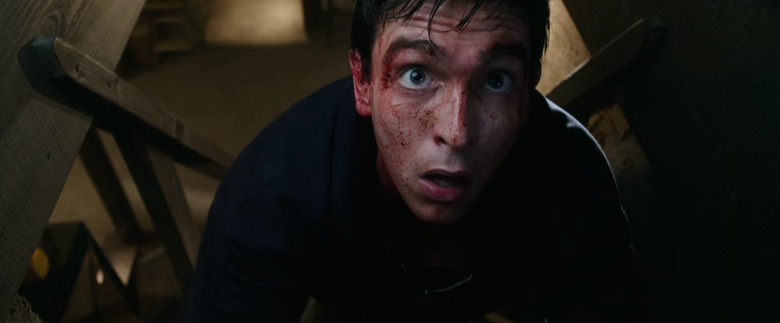 Several years ago we reported on a Black List script by Oren Uziel called The Kitchen Sink, a horror-sci-fi-comedy mashup that combined vampires, zombies, and aliens. Jonah Hill was originally set to direct, and then Robbie Pickering. A promising cast (including Bob Odenkirk and Patton Oswalt) was assembled, and then the updates slowed down and eventually the project fell off our radar completely.
But it's back now, in finished form under a new title: Freaks of Nature. And it's hitting theaters in just two weeks, so Sony has finally put out a first trailer. Nicholas Braun, Mackenzie Davis, Josh Fadem, Ed Westwick, Vanessa Hudgens, Joan Cusack, Keegan-Michael Key, and Denis Leary star. Watch the Freaks of Nature red-band trailer after the jump.
Sony posted the Freaks of Nature red-band trailer on YouTube. Remember, red-band means NSFW – in this case for language, violence, and what the MPAA might call "some sexual content."
Confused by what's going on in the trailer? Here's the synopsis:
In Freaks of Nature, we welcome you to Dillford, where three days ago, everything was peaceful and business as usual: the vampires were at the top of the social order, the zombies were at the bottom, and the humans were getting along in the middle. But this delicate balance was ripped apart when the alien apocalypse arrived in Dillford and put an end to all the harmony. Now it's humans vs. vampires vs. zombies in all-out, blood-sucking, brain-eating, vamp-staking mortal combat – and all of them are on the run from the aliens. It is up to three teenagers – one human, one vampire, and one zombie – to team up, figure out how to get rid of the interplanetary visitors, and try to restore order to this "normal" little town.
Freaks of Nature has the potential to be great fun, or a huge disaster. It seems to be going for a kind of Shaun of the Dead / The World's End vibe, only busier and more frantic. (As befits a film formerly titled The Kitchen Sink.) But the scares in the trailer aren't really all that scary, and the jokes are only hit or miss.
And frankly, the fact that even Sony seemed to forget this movie existed until earlier today doesn't bode well. Delayed releases aren't always a bad sign; Cabin in the Woods was shelved due to circumstances outside its control, and turned out to be an instant horror classic. But the marketing campaign for this one is the definition of lackluster, which doesn't inspire much confidence.
Still, who knows? Maybe it'll turn out to be a nice lighthearted alternative to the dark, spooky fare that usually clogs up the multiplexes around this time of year. Freaks of Nature opens October 30.