'Hack/Slash' TV Series In The Works From 'A Good Day To Die Hard' Writer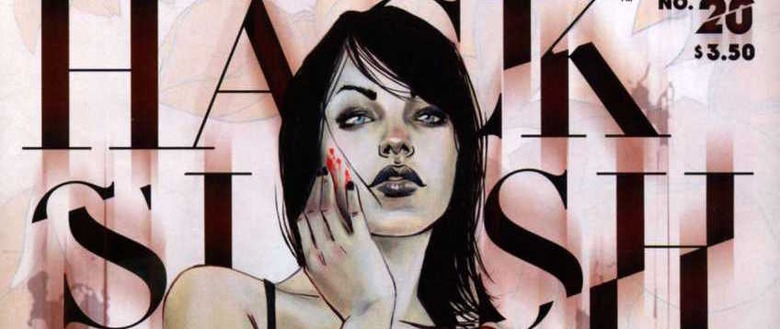 A live-action adaptation of Hack/Slash may finally, at long last, becoming to a screen near you. Not the big screen, though — the small one. A Hack/Slash TV series has just been put into development, after years of fruitless attempts to get a Hack/Slash movie off the ground. Read all about the Hack/Slash TV series after the jump. 
THR broke the news of the Hack/Slash TV series. The project comes from Relativity Television, a spinoff of Relativity Media. Skip Woods is writing the script and will executive produce along with Adrian Askarieh and Ray Ricord. Daniel Alter and Geoffrey Yim are co-executive producers. The Hack/Slash TV series is envisioned as a "dark and gritty show in The Walking Dead mold."
Hack/Slash will be based on the comic book of the same title, launched in 2004 by Tim Seeley and Stefano Caselli. At the center of the books is a young woman named Cassie Hack, the "final girl"-type survivor of a vicious attack in her childhood. She grows up to hunt "slashers," horror movie-type villains, traveling across the country with her mysterious partner and protector Vlad.
Askarieh first optioned Hack/Slash all the way back in 2005 with the intention of turning it into a movie. Several talents have come and gone over the years, including writers Justin Marks (Disney's upcoming The Jungle Book) and Stephen Susco (The Grudge) and directors Marcus Nispel (of the Friday the 13th remake), Fredrik Bond (Charlie Countryman), and Todd Lincoln (The Apparition). None of them quite managed to crack it, so here we are pondering the possibility of a Hack/Slash TV series.
Woods' credits include 2007's Hitman and its recent reboot Hitman: Agent 47, as well as Swordfish, X-Men Origins: Wolverine, The A-Team, A Good Day to Die Hard, and Sabotage. Which, frankly, isn't a résumé that inspires much confidence. But maybe he'll have better luck on television.