Mark Ruffalo's Hulk Will Appear In 'Thor: Ragnarok'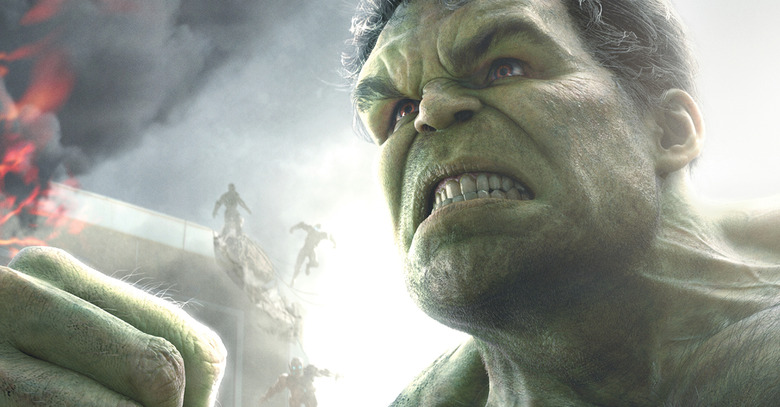 Hulk is one of the few Avengers who won't be reporting for duty in Captain America: Civil War, but it doesn't look like he'll be MIA for too long. Mark Ruffalo is reportedly closing a deal to appear in 2017's Thor: Ragnarok alongside Chris Hemsworth, the other Avenger who's sitting out Civil War. Read about the Hulk Thor Ragnarok appearance after the jump. 
Earlier this week JoBlo reported a rumor that Ruffalo would resurface in Thor: Ragnarok, and Variety now confirms he's in final negotiations. The character previously headlined his own film, 2008's The Incredible Hulk, but that was back he was being played by Edward Norton. This will be Ruffalo's first time starring as the Hulk in a non-Avengers movie.
How exactly Ruffalo's Hulk will fit into Thor: Ragnarok remains unknown. Intriguingly, the trade says the movie will "take place somewhere other than Earth and Asgard." (Cue those persistent, and persistently denied, Planet Hulk rumors.) Earlier this week, Birth.Movies.Death. posted a separate rumor saying Thor and Hulk would be setting out on a cosmic road trip, but that part is so far unconfirmed. According to their sources, the duo will encounter a number of new characters including the Valkyries.
The last time we saw the Hulk was in Avengers: Age of Ultron, when he was taking off in the Quinjet toward destinations unknown. There was some speculation he could pop up in Guardians of the Galaxy Vol. 2, but director James Gunn has repeatedly shot down those rumors. For a while, it seemed like we might not get more Hulk until Avengers: Infinity War in 2018 and 2019.
Ruffalo has said Hulk was cut out of Captain America: Civil War because Marvel had bigger plans for him. Thor: Ragnarok, then, could be a major storyline for him. Fans have been clamoring for more Hulk since Ruffalo made his MCU debut in the first Avengers, and while a standalone movie doesn't seem to be in the cards just yet, it seems quite possible he'll emerge as a key player in Ragnarok the way Black Widow did in Captain America: The Winter Soldier.
Besides Hemsworth and Ruffalo, Thor: Ragnarok will bring back Tom Hiddleston as Loki and Jaimie Alexander as Lady Sif. Taika Waititi (What We Do in the Shadows) was recently tapped to direct from a script by Christopher Yost and Craig Kyle. Production on Thor: Ragnarok begins next year for release on November 3, 2017.