'Ratchet & Clank' Trailer: A Furry Alien And His Robot Buddy Save The Galaxy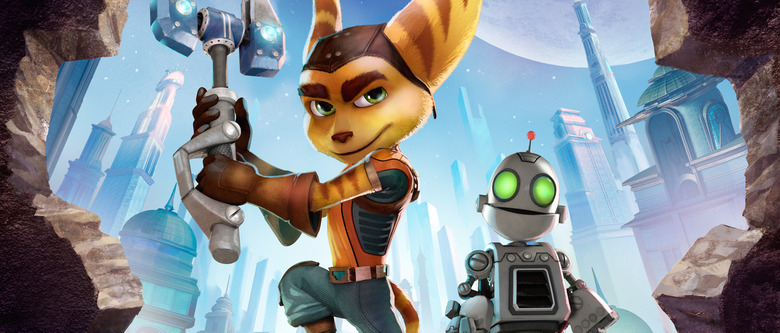 2016 may just be the year that the video game movie "curse" is broken once and for all. Assassin's Creed has lined up a cast and crew that'd be the envy of most prestige dramas, Warcraft looks like a meticulously realized fantasy epic of staggering ambition, and even Angry Birds looks pretty damn cute.
Rounding out that roster now is Ratchet & Clank, the new film based on PlayStation's hit game. The first trailer has just landed online, and it looks like an enjoyable all-ages ride. Watch the Ratchet and Clank trailer after the jump.
Apple debuted the Ratchet and Clank trailer.
The first Ratchet and Clank trailer plays sort of like a kiddie version of Guardians of the Galaxy, which isn't a bad thing. The animation is crisp and smooth, and the humor is cheesy but not grating. ("Ready to kick some asteroid" made me roll my eyes affectionately.) Most importantly, Ratchet and Clank themselves make for a likable odd couple. Toss in the very Tick-like Captain Qwark, and this video game adaptation looks like fun for the whole family, not just the little ones.
Ratchet & Clank is in theaters April 29th, 2016. Kevin Munroe directed.
A CG-animated movie based on the iconic PlayStation video game. Two unlikely heroes struggle to stop a vile alien named Chairman Drek from destroying every planet in the Solana Galaxy. Ratchet is the last of his kind, a foolhardy "lombax" who has grown up alone on a backwater planet with no family of his own. Clank is a pint-sized robot with more brains than brawn. When the two stumble upon a dangerous weapon capable of destroying entire planets, they must join forces with a team of colorful heroes called The Galactic Rangers in order to save the galaxy. Along the way, they will learn about heroism, friendship, and the importance of discovering one's own identity.