'Sanjay's Super Team' Clip: A Deeply Personal Short Film From Pixar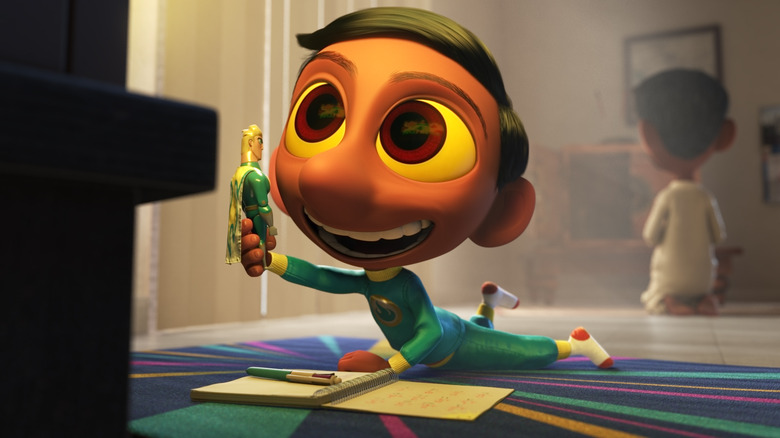 With a few exceptions, the animated shorts from Pixar Animation Studios are almost always a treat. The short that played before this summer's Inside Out, Lava, was oddly loathed by some around the internet, despite being fairly harmless. Pixar's next short, Sanjay's Super Team, is attached to The Good Dinosaur, which comes out this fall. See a clip from the personal piece of animation after the jump.
Sanjay's Super Team is directed by Sanjay Patel, who got his start as a character layout artist on The Simpsons in the mid-1990s. Soon after that gig, he served as an animator and story artist on A Bug's Life, Toy Story 2, Monsters Inc., The Incredibles, Monsters University and some of Pixar's past short films.
Pixar's newest short follows Sanjay, a young boy whose Saturday morning cartoon is disrupted by his father. Uninterested in Hindu prayer, he instead reaches for his action figure, and when he accidentally blows out a candle, he's sent to a cosmic Hindu temple.
Here's a Sanjays Super Team clip:
Peter was lucky enough to see the full short at Comic Con. Here's his take on Sanjay's Super Team:
The first time the short screened in the hall, I was taken aback about how different it felt compared to the other Pixar and Disney short films. Sanjay's Super Team feels like a much more personal project than the Pixar short films that have come before it. I was left with more of a feeling of admiration than the usual love I have for most of the other Pixar shorts. But I had the remarkable experience of watching the film a second time at the conclusion of the panel and having a completely different response to the film. The second time I watched the movie I had a much more emotional connection to the story. My eyes may have even teared up a bit.
By "may have," Peter means to say his eyes definitely teared up, which isn't surprising, because A) Peter is a softie and B) the short is deeply personal to Sanjay Patel. Sanjay's Super Team even begins with a title card that says "based on a mostly true story." The director grew up in San Bernardino, California, and was embarrassed by his father's Hindu culture and religion. Eventually Patel came to embrace Hinduism. The short is a love letter, both to his religion and his father. 
Sanjay's Super Team and The Good Dinosaur open in theaters November 25th.