Rebecca Ferguson Eyed For 'Prometheus' Sequel, In Talks For Michael Fassbender's 'The Snowman'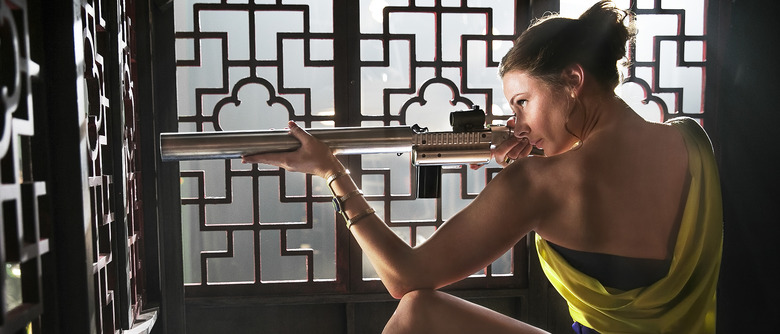 Rebecca Ferguson came seemingly out of nowhere to steal the show in this summer's Mission: Impossible – Rogue Nation, and now it seems she's at the top of everyone's casting wishlist. Up to and including Ridley Scott's for Alien: Paradise Lost, according to a new report. Meanwhile, she's also entered talks for The Snowman with Michael Fassbender.
Get the Rebecca Ferguson Prometheus and Snowman casting updates after the jump. 
Deadline reports Ferguson is "in the mix" for Alien: Paradise Lost, but hasn't yet entered talks. She's apparently being considered for a "major" role, though further details have not been given. Ferguson was already on studio 20th Century Fox's radar, as they had previously courted her for the X-Men spinoff Gambit.Alien: Paradise Lost is expected to pick up where Prometheus left off, with Elizabeth (Noomi Rapace) and David (Michael Fassbender) setting out for the Engineers' home planet in search of answers. Scott has previously teased that they would be joined by "a new group of travelers," so perhaps Ferguson's character would be among them.
Ferguson's casting for The Snowman is further along, as the trade says she's already entered talks. The crime pic is slated to shoot in January. (Alien: Paradise Lost is expected to begin in February, so it'd be tricky but not impossible for Ferguson to do both.) Tomas Alfredson (Tinker Tailor Soldier Spy) is directing the adaptation of Jo Nesbø's novel, and Martin Scorsese is executive producing.
Fassbender stars as Harry Hole, an Oslo detective described as a brilliant loose cannon. (Aren't they all?) He investigates the murder of a woman whose scarf has been found wrapped around a snowman, and soon uncovers a disturbing pattern of married women going missing the day the first snow falls.
Since her breakout turn in Mission: Impossible – Rogue Nation, Ferguson has signed on for The Girl on the Train and been rumored for Captain Marvel. Also coming up for her is Stephen Frears' Florence Foster Jenkins with Meryl Streep and Hugh Grant. And there's the strong possibility she'll be wanted back for the next Mission: Impossible movie, which will probably shoot sometime next year.