'Race' Trailer: 'Selma' Star Stephan James Breaks Barriers As Jesse Owens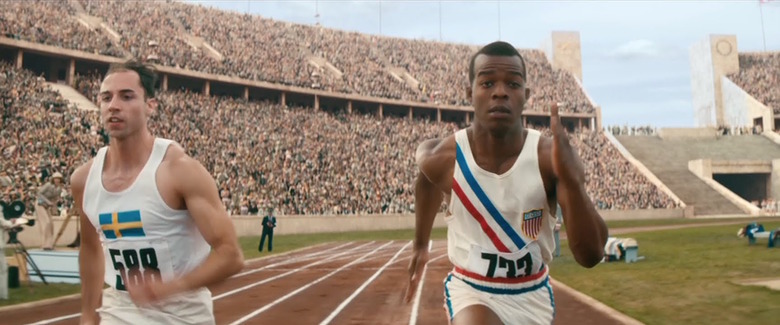 Amid the usual fall crush of biopics comes a trailer for an especially promising one that's opening next year. Focus Features has just put out the first promo for Race, starring Selma's Stephan James as Olympic athlete Jesse Owens.
Still considered one of the greatest track and field stars in history, Owens struck a blow to the notion of Aryan supremacy when he dominated at the 1936 Olympics in Nazi Germany. Jeremy Irons, Jason Sudekis, and William Hurt also star, and Stephen Hopkins directed. Watch the Race trailer after the jump.
Yahoo debuted the first Race trailer. Get it? It's about a race, as in an athletic event, and also race, as in skin color.
The role of Jesse Owens was originally earmarked for John Boyega, but once he got whisked off to a certain galaxy far, far away, James stepped in to replace him. James isn't terribly well known yet, especially in the U.S. — he's better known in his native Canada for work on shows like Degrassi and The L.A. Complex – but his work in Selma marked him as a rising talent to watch out for.
The fact that he emerged as a major highlight in Ava DuVernay's Martin Luther King drama was especially impressive given that all James had to work with was a minor role, and that he was surrounded on all sides by excellent performances from much more famous actors. Here's hoping Race will be the film that puts him on the track to the A-list.
Race arrives February 19, 2016.
Based on the incredible true story of Jesse Owens, the legendary athletic superstar whose quest to become the greatest track and field athlete in history thrusts him onto the world stage of the 1936 Olympics, where he faces off against Adolf Hitler's vision of Aryan supremacy. "Race" is an enthralling film about courage, determination, tolerance, and friendship, and an inspiring drama about one man's fight to become an Olympic legend.