Dino-Riders Movie Being Developed By Mattel?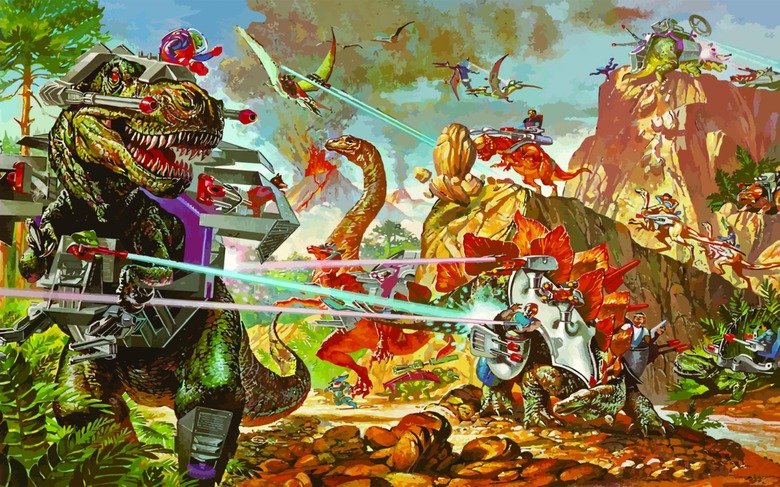 Is Mattel developing a big-screen adaptation of the popular Tyco toy line Dino-Riders, which launched in the late 1980's?
The report comes from The Tracking Board, which in the past year has proven themselves to have its share of good intel as well as bad intel (so take this with a grain of salt until it's confirmed). According to their sources, Mattel has teamed up with Solipsist Film, a small Los Angeles-based company best known for helping produce Sin City: A Dame to Kill For. Alissa Phillips (Tucker and Dale vs. Evil, Butter, Moneyball, Dracula Untold) and Stephen L'Heureux will produce Dino-Riders for Solipsist.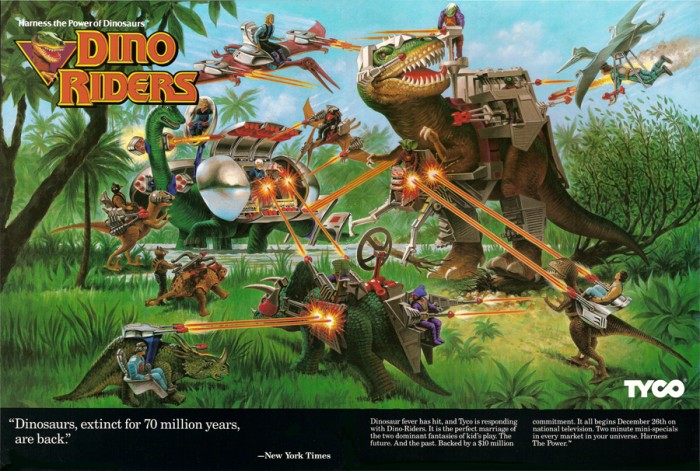 I grew up in the 1980s but don't remember much about the Dino-Riders other than the awesome imagery of men and women riding dinosaurs equipped with futuristic weaponry. The show aired in 1988 as a way to launch the toy line, and only 14 episodes were ever produced (three of which were released direct to VHS). Here is a quick synopsis thanks to Wikipedia:
The series focuses on the battle between the good Valorians and evil Rulons on prehistoric Earth. The Valorians were a super human race, while the Rulons were a mixture of humanoid creatures — both of which came from the future, however ended up transported back in time to the age of Dinosaurs. Once on Earth, the Valorians befriended dinosaurs while the Rulons brain-washed them.
No writers have yet been hired. Apparently the plan is to develop a feature film which would "target the family demographic, with a strong action-adventure storyline." With only 14 episodes to draw from, it seems like a movie would have a lot of room to play without having to bow down to fans obsessed with series canon.
The project also has yet to be set up at a studio, but Universal might be the first stop as they already distribute the home video adaptations for such Mattel properties as Barbie, Monster High and Hot Wheels. But would Universal want to compete with themselves and their planned line of Jurassic Park/Jurassic World sequels? It's easy to see that Mattel wants a piece of the Transformers pie that Hasbro has been eating, and the time is right, especially with a dinosaur movie like Jurassic World doing such huge mega business.
It seems like Mattel and Hasbro have been at war for decades now, fighting an epic battle for the toy chests of kids around the world. In the mid-1980s, Hasbro moved past Mattel to become the world's largest toy company. In the mid-1990s, Mattel proposed a merger which was turned down by the Hasbro board. And with the 2007 Michael Bay-directed, Steven Spielberg-produced movie Transformers, Hasbro became the toy movie company of Hollywood and Mattel has been trying to catch up ever since.
Five years ago, it was reported that Mattel has challenged its designers to come up with a new toy line that could simultaneously be adapted for television, feature film, and video games. The winning idea was supposedly a new toy line based on the concept of "an alien civilization that's been living in the depths of Earth's oceans." Fast and the Furious producer Neal Moritz was even reportedly on board to develop the toy line into a feature film. I don't believe this toy line has ever seen the light of day.