Furiosa Might Not Return For 'Mad Max: The Wasteland'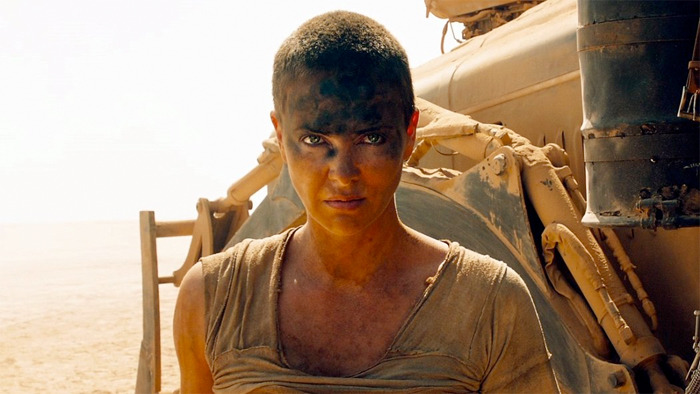 To call Charlize Theron's Imperator Furiosa a scene-stealer in Mad Max: Fury Road wouldn't be fair to her performance. Although both Max (Tom Hardy) and Furiosa find hope and redemption, Fury Road is really more of Furiosa's story than the road warrior's. The character was a huge hit with fans and general audiences, and yet, there may be no Furiosa in the Mad Max sequel. Learn more after the jump.
Director George Miller is currently speaking with Warner Bros. about making two more Mad Max films — one titled Mad Max: The Wasteland, the other one rumored to be called Mad Max: Furiosa. The latter, presumably featuring Theron's character, now sounds a little doubtful. Speaking with Digital Spy, Miller had this to say about the character's return:
I'm not sure, is the answer. She's not in the Mad Max [sequel] story, but in one of the stories there's an interaction between [Max and Furiosa]. I can't really say more than that because it's still in progress.
As the director says, these films are still works in progress, so a lot could change by the time these movies are made. Plus, perhaps Miller just doesn't want to spoil what he has in store for the sequels. Maybe Mad Max: Furiosa, most likely starring Theron, could still come to fruition.
Last month we reported the actress wasn't signed on for the sequel. When Fury Road was released this summer, Theron gave an honest response to Entertainment Weekly when asked if she'd play the character again:
We made a very hard movie. We're about to release it the world, and that's scary. I've got my life and a 3-year-old as well. There's no part of me that's like, "No f—ing way will I ever do that." But there is a very realistic part of me that knows this movie was really made on the basis of all the right reasons why George wanted to make this movie—and Warner Bros. will tell you that. Unless that happens again, I wouldn't trust the process.
If there's no Furiosa in the Mad Max sequel, will that be a bummer? Absolutely. The character returning kind of goes against the spirit of this franchise, though. We're supposed to go on new adventures with Max, meeting new characters. George Miller created a vast world, so why not explore new territory rather than returning to characters we already know? If Theron doesn't come back for Mad Max: The Wasteland, I'm sure Miller will introduce characters just as compelling as Furiosa.