'W/ Bob & David' Trailer: Netflix Reunites 'Mr. Show' Creators Bob Odenkirk And David Cross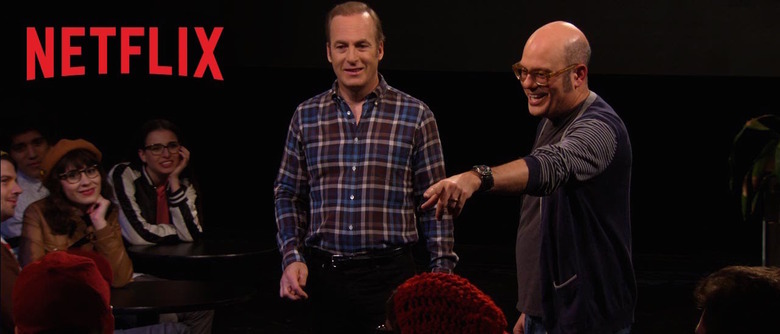 No one is a bigger David Cross fan than Netflix. The streaming service revived Arrested Development back in 2013, and now it's bringing back his '90s sketch comedy series Mr. Show. Well, sort of. W/ Bob & David is technically an entirely different series, but seeing as it reunites Cross and Bob Odenkirk for more sketch comedy goodness, it should appeal to the same comedy nerds who've been gushing about Mr. Show for the past 20 years. Watch the W/ Bob & David trailer after the jump.
With Bob and David Trailer
Here's the first W/ Bob & David trailer, which promises "plenty of sexy stuff," according to Cross. "I know that's your number one thing: 'Am I going to get to jerk off later?' Yes, you will."
The original Mr. Show with Bob and David ran for four seasons on HBO in the mid-'90s. Though not a huge hit in terms of viewership, it was a critical darling and has since proved to be massively influential. It featured talents like Sarah Silverman, Mary Lynn Rajskub, Jack Black, Brian Posehn, and Scott Aukerman early in their careers. Some of those people will be back for W/ Bob & David, along with fresh faces like Keegan-Michael Key, who's seen in the trailer above.
All of which means W/ Bob & David will have some pretty big shoes to fill when it hits Netflix this fall. But Odenkirk stressed in a recent interview that W/ Bob & David should not be considered a continuation of Mr. Show. "In the comedic voice it will feel very much like Mr. Show—how could it not?" he acknowledged. However, "structurally [W/ Bob & David] will be more carefree, and move faster, and not be afraid to have a tonal moment that isn't grounded in a joke."
W/ Bob & David lands on Netflix November 13.
After being dishonorably discharged from the Navy Seals, Bob Odenkirk and David Cross are back serving our country the way they do best — making sketch comedy.