First 'Daredevil' Season 2 Promo Teases The Punisher And Elektra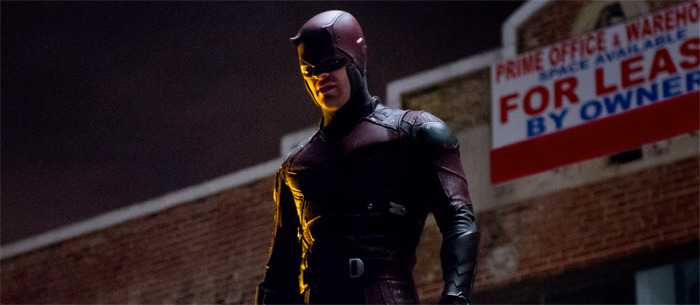 Hell's Kitchen is getting crowded, and we're not talking about the 150,000+ fans who flocked to the Javits Center for New York Comic Con this weekend. We're talking about two heavyweight characters coming to Daredevil Season 2, set in a fictional (and far less gentrified) version of Hell's Kitchen.
Marvel and Netflix unveiled the first teaser for the next run of Daredevil episodes at their NYCC panel, and included in it were our first looks at Elektra (Élodie Yung) and the Punisher (Jon Bernthal). Watch the Daredevil Season 2 teaser after the jump. 
The Daredevil Season 2 is brief — just 30 seconds — but that's more than enough time for Elektra and the Punisher to make their presence known. As for avenging angel Matt Murdock (Charlie Cox), he still seems to be mired in Catholic guilt. And whatever's going on with his buddies Claire (Rosario Dawson), Foggy (Elden Henson), and Karen (Deborah Ann Woll), they don't look too happy either.
Both Elektra and the Punisher are expected to play big roles in Daredevil Season 2. Exec producer Jeph Loeb promised that Yung and Cox would "bring one of the most beloved and tumultuous comic book relationships to life with all the accompanying sparks and spectacular action sequences the show is known for."
Meanwhile, co-showrunner Marco Ramirez described the season as basically "Daredevil vs. the Punisher," though that animosity more likely refers to the philosophical and moral differences between the two characters, rather than a straight-up superhero vs. supervillain dynamic.
No doubt that brief glimpse above will leave Daredevil fans hungry for more. But with an estimated six months or so to go until Season 2, Marvel and Netflix are probably smart to take their time doling out these juicy tidbits. While we wait, we'll get to return to Hell's Kitchen with the release of Jessica Jones on November 20th 2015.
Daredevil Season 2 arrives on Netflix sometime in 2016. Scott Glenn will guest-star again as Stick, and Stephen Rider joins in a series regular role as Blake Tower.