Joss Whedon Comments On His 'Avengers' Salary And A 'Dr. Horrible' Sequel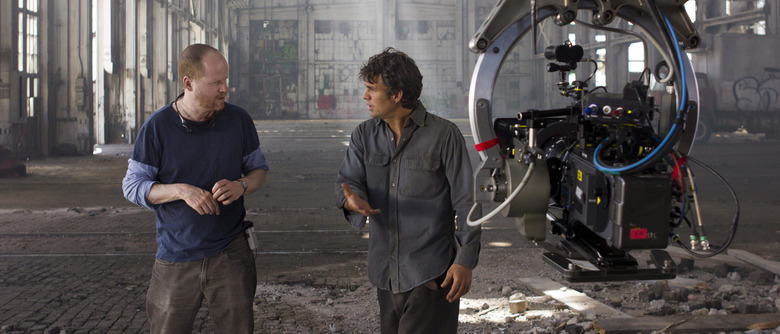 With $1.5 billion in worldwide gross, 2012's The Avengers was one of the biggest films of all time. But it wasn't nearly as lucrative for Joss Whedon as it was for Marvel Studios. According to Whedon, he made less money for writing and directing the mega-budget smash hit than he did for making Dr. Horrible's Sing-Along Blog, a web-only miniseries shot on a shoestring budget.
Nevertheless, Whedon came back to direct this summer's Avengers: Age of Ultron. So now that that's over, could he also return for another Dr. Horrible? Read the Joss Whedon Avengers salary comments and Dr. Horrible sequel update after the jump. 
Speaking at PaleyFest Q&A this weekend, Whedon mentioned that he's made more money from Dr. Horrible's Sing-Along Blog than he did for writing and directing the first Avengers. This isn't the first time Whedon has mentioned this bit of trivia. In an interview with the Wall Street Journal (via The Playlist) in April, Whedon said that it wasn't until Avengers: Age of Ultron that he finally understood "what it feels like to get paid."
(Exactly how much he's made from the second Avengers isn't clear. Back in 2013 Deadline estimated he could earn up to $100 million for an overall deal with Disney involving several films, consulting work, and the Agents of S.H.I.E.L.D. TV series, but Whedon has denied that figure. In any case, it's definitely a lot.)
At the time, Whedon noted Marvel's strategy for finding cheap talent: "They are in the business of hiring the guy who hasn't had a big success, because they don't have to pay that guy very much." Those comments were made back when the famously cheap Ike Perlmutter was still running the show, but things may not be all that different under Kevin Feige. Just a couple weeks ago we heard the studio was in talks with indie filmmaker Taika Waititi for Thor: Ragnarok.
So if Dr. Horrible was such a big success for Whedon, what's going on with the sequel? Whedon said plans for a Dr. Horrible 2 are "exactly where they've been for a long time," with a title, outline, and songs already in place. But it might be a little while before the project can really get going. Both of Whedon's brothers, who worked with him on the first Dr. Horrible, are busy with their other jobs and expecting kids to boot, while Joss is still "in recovery" from Avengers: Age of Ultron.
As for what the sequel will be about, Whedon said, "All the things that we got a taste of, we definitely want to expand." He continued, "We're fascinated by what a hero is, what a villain is. That's kind of central to what we're talking about and dealing with and tearing apart and undermining. We want more of that, without falling into bloat." Or maybe they'll just go the Marvel route. "He's just going to fight Ultron," Whedon joked. "I'm just going to do that until I get it right!"