'The Shannara Chronicles' NYCC Trailer: MTV Goes On A Fantasy Adventure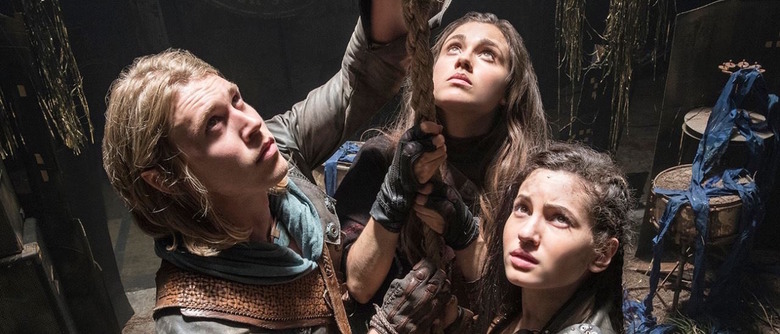 If you took Lord of the Rings and The Hunger Games and tossed them in a blender built by The CW, you might end up with something like MTV's The Shannara Chronicles NYCC trailer.
Based on the novels by Terry Brooks, the fantasy drama follows a post-apocalyptic society threatened by demonic forces. The only hope for salvation rests in the hands of three heroes: Elven princess Amberle (Poppy Drayton), human Eretria (Ivana Baquero), and half-elf, half-human Wil (Austin Butler). Watch the Shannara Chronicles NYCC trailer after the jump.
Here's the Shannara Chronicles NYCC trailer from MTV:
The new promo is heavy on mythology and action, and light on characterization. That approach may be a turnoff if you're not much into elves and prophecies and magical trees and whatnot, but it probably makes sense for a venue like Comic-Con, where the audience tends to be more fantasy-friendly. There will be plenty of time to get to know these photogenic young heroes as the marketing campaign continues.
The Shannara Chronicles Season 1 is based specifically on Brooks' The Elfstones of Shannara, the second of about two dozen novels published since the 1970s. Brooks himself seems to be a fan of the new show. "It's really good," he told Paste in July, while acknowledging that he might be "somewhat biased."
As announced at NYCC, The Shannara Chronicles will premiere Tuesday, January 5 at 10/9c.
Coming to MTV in January 2016, 'The Shannara Chronicles' is a new TV series based on the best-selling fantasy novels by Terry Brooks. Set thousands of years after the destruction of our civilization, the story follows an Elven Princess, Amberle, a half-human half-elf, Wil, and a human, Eretria, as they embark on a quest to stop a Demon army from destroying the Four Lands.
'The Shannara Chronicles' stars Poppy Drayton, Austin Butler, Ivana Baquero, Manu Bennett and John Rhys-Davies. The series is executive produced by Jon Favreau, Al Gough, Miles Millar, Dan Farah, Jonathan Liebesman and author Terry Brooks.