Disney's Live-Action Cruella De Vil Spinoff Taps 'Fifty Shades' Writer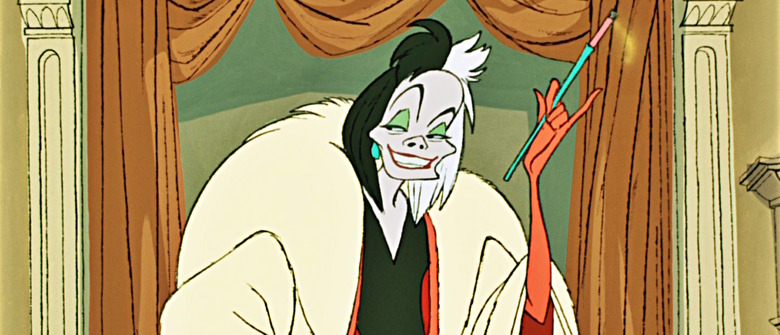 Yesterday, Disney set release dates for four more as-yet-untitled live-action fairy tales. At the time, we rattled off a long list of such projects already in development at the studio, from Dumbo to Mulan, but one we overlooked now looks likely to claim one of those spots. Disney is reportedly fast-tracking Cruella, a retelling of 101 Dalmatians that has Kelly Marcel (Saving Mr. Banks) on board to write.
Get the latest on the Cruella de Vil spinoff after the jump. 
THR reports Marcel will work on the story for the Cruella de Vil spinoff with Steve Zissis (HBO's Togetherness). Aline Brosh McKenna (The Devil Wears Prada) worked on an earlier incarnation of the project that had Andrew Gunn (Sky High) on board to produce. The film looks poised to do what Maleficent did for Sleeping Beauty, and offer an alternate take on an iconic Disney villain.
Cruella de Vil first came into existence in Dodie Smith's 1956 novel 101 Dalmatians. Five years later, she leapt to the big screen in Disney's animated adaptation. The studio adapted the story again in 1996, this time as a live-action feature with Glenn Close playing Cruella. A sequel followed in 2000.
More recently, the character was portrayed by Victoria Smurfit and Milli Wilkinson in ABC's Once Upon a Time, and by Wendy Raquel Robinson in Disney Channel's Descendants. Generally speaking, she's portrayed as a cruel, wealthy woman who dislikes animals but loves fur. Like many other Disney villains, she's got a big personality and a great evil laugh.
Marcel's an in-demand writer whose credits include Saving Mr. Banks and Fifty Shades of Grey. (Say what you will about the latter, but thanks to Marcel, director Sam Taylor-Johnson, and star Dakota Johnson, it was better than it had any right to be.) She also worked on an Elvis Presley biopic for Baz Luhrmann and a Little Mermaid for Joe Wright. In addition, she is the co-creator of Fox's short-lived dino drama Terra Nova.
After the successes of Alice in Wonderland, Maleficent, and Cinderella, it didn't exactly come as a surprise when Disney announced it had set aside December 22, 2017, November 2, 2018, March 29, 2019, and November 8, 2019 for more live-action fairy tales. Though the studio hasn't said which films will claim those dates, its eagerness to get moving on Cruella suggests we'll see it sooner rather than later.
The studio has a lot more than four live-action fairy tales in the works, including Pinocchio, Winnie the Pooh, The Sword in the Stone; spinoffs about Tinker Bell, Prince Charming, and Genie; and sequels to Enchanted and Fantasia. That's in addition to the already-dated The Jungle Book, Alice Through the Looking Glass, Pete's Dragon, and Beauty and the Beast.
See Cruella in her original movie incarnation below. Out of context, the clip kind of makes Roger seem like a dick for making up a song to mock his wife's friend.