Brie Larson To Reunite With 'Short Term 12' Director For 'The Glass Castle'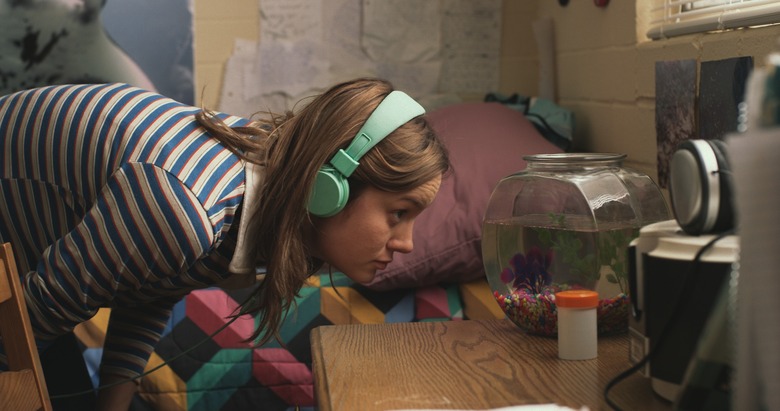 Long before Room put Brie Larson in the conversation about this year's Oscar race, she delivered one of 2013's best performances in Short Term 12. Now she's looking to reunite with the director of that film, Destin Daniel Cretton. Larson may replace Jennifer Lawrence in The Glass Castle, an adaptation of the bestselling memoir by Jeannette Walls.
Read about the Brie Larson Glass Castle casting after the jump.
THR reports Larson is in early talks for The Glass Castle. Walls' memoir chronicles her unconventional upbringing in a deeply dysfunctional family. Though the Walls' lives are full of imagination and adventure, her alcoholic father and eccentric mother struggle to provide any financial or emotional stability, and they wander from town to town as their money and luck run out.
Walls' book is a real heartbreaker, and all the more so because she refuses to simply demonize her flaky parents. The love between them is real, even if it's often not enough. It's just about perfect material for Cretton and Larson, whose Short Term 12 similarly focused on young people in troubled circumstances. The pair tackled bleak material with grit and grace, and hopefully they'll take a similar approach with The Glass Castle.
Lawrence was originally attached to play Jeannette back in 2013, but dropped out when the film could not find a male lead. Larson is a more than suitable substitute, but her growing to-do list may get in the way of a deal. She's about to set sail for the Kong: Skull Island shoot, and recently signed on to play Billie Jean King in Battle of the Sexes, replacing Emma Stone.
Larson has proven a remarkably versatile young actress. Just this year, she's appeared in Judd Apatow and Amy Schumer's big studio comedy Trainwreck, Joe Swanberg's low-key indie Digging for Fire, and the harrowing kidnapping drama Room. In addition, she's already wrapped Ben Wheatley's Free Fire, Todd Solondz's Weiner-Dog, and the indie musical romcom Basmati Blues.
Marti Noxon and Andrew Lanham have worked on the script for The Glass Castle, along with Cretton himself. Gil Netter and Erik Feig are producing. No start date or release date has been announced.