'Hail, Caesar!' Trailer: The Coen Brothers Hit The Golden Age Of Hollywood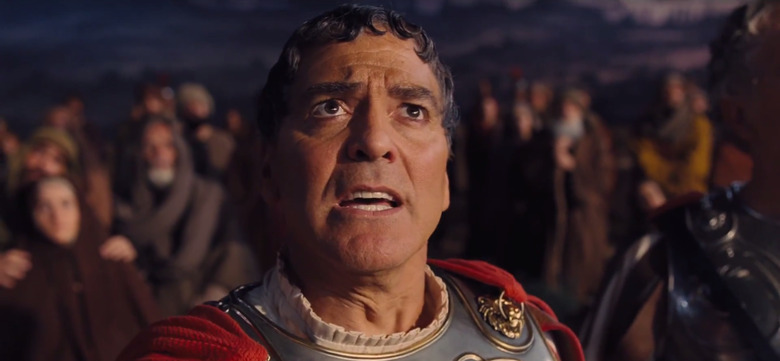 As if we didn't have enough movies to look forward to between now and the end of this year, it's already time to start looking ahead to next year. Working Title has just dropped the first trailer for Hail, Caesar!, Joel and Ethan Coen's not-quite-musical farce set in the Golden Age of Hollywood.
Josh Brolin plays studio fixer Eddie Manix, whose crazy day gets a whole lot crazier when a movie star (played by George Clooney) gets abducted. The all-star cast also includes Ralph Fiennes, Scarlett Johansson, Tilda Swinton, Alden Ehrenreich, and Frances McDormand. Watch the Hail Caesar trailer after the jump. Working Title unveiled the Hail Caesar trailer.
As explained by composer Carter Burwell, Hail, Caesar! "takes place on a Hollywood backlot, so you pass through all these pictures that are in production there." The musical sequences will differ with each film in progress. Burwell described one of them as "a tap-dance water number," which seems to be the one Johansson's actress character is involved in above.
While the first Hail, Caesar! trailer has a jaunty feel, Burwell cautioned that the film isn't actually comical. "I'm quite certain it's actually going to be quite the opposite," he said. "It's going to be rather serious, and it's about faith. It's not about the music." So that opening scene with the confessional isn't just a throwaway gag, but part of a bigger arc within the film.
Hail, Caesar! hits theaters February 5, 2016.
Four-time Oscar®-winning filmmakers Joel and Ethan Coen (No Country for Old Men, True Grit, Fargo) write and direct HAIL, CAESAR!, an all-star comedy set during the latter years of Hollywood's Golden Age. Starring Josh Brolin, George Clooney, Ralph Fiennes, Tilda Swinton, Channing Tatum, Scarlett Johansson, Jonah Hill and Frances McDormand, Hail, Caesar! follows a single day in the life of a studio fixer who is presented with plenty of problems to fix.
The comedy is produced by the Coen brothers under their Mike Zoss Productions banner alongside Working Title Films' Eric Fellner and Tim Bevan.