'The Man In The High Castle' Trailer Introduces An Axis-Controlled America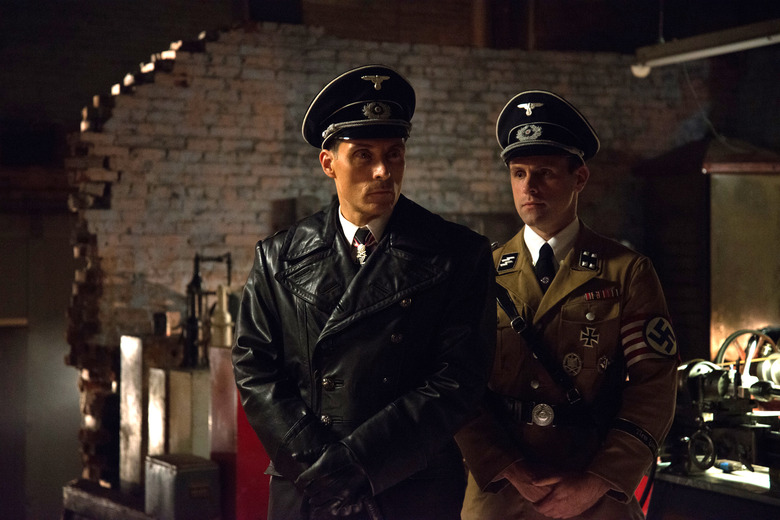 We're drowning in fall TV as it is — this week alone marks the premieres of The Leftovers, Homeland, The Flash, iZombie, Arrow, American Horror Story, and more — but don't expect the deluge to let up anytime soon. Case in point: This November brings the premiere of The Man in the High Castle, Amazon's Ridley Scott-produced adaptation on the Philip K. Dick novel.
The drama is set in an alternate 1962 where the Axis powers won World War II. A San Francisco woman (Alexa Davalos) comes into possession of a film reel depicting a world where the Allied powers were victorious, which inspires some very dangerous ideas. Luke Kleintank and Rufus Sewell also star. Watch The Man in the High Castle trailer after the jump.
Amazon shared the new The Man in the High Castle trailer. The last one employed a slowed-down version of "America the Beautiful," and this one uses an eerie cover of Buffalo Springfield's "For What It's Worth."
With a gripping premise, The Man in the High Castle has the potential to turn into something dark, rich, and thought-provoking. It's genuinely unsettling to see a version of America that looks so much like ours and yet not at all. The pilot was pretty well received by critics when it hit Amazon earlier this year, and while a pilot isn't always the best indicator of a show's overall quality, it's certainly a promising start.
All episodes of The Man in the High Castle will hit Amazon Prime on November 20.
Based on Philip K. Dick's award-winning novel, and executive produced by Ridley Scott (Blade Runner), The Man in the High Castle explores what it would be like if the Allied Powers had lost WWII, and Japan and Germany ruled the United States. Starring Rufus Sewell (John Adams), Luke Kleintank (Pretty Little Liars) and Alexa Davalos (Mob City).