'Ant-Man' Sequel 'Ant-Man And The Wasp' Announced For 2018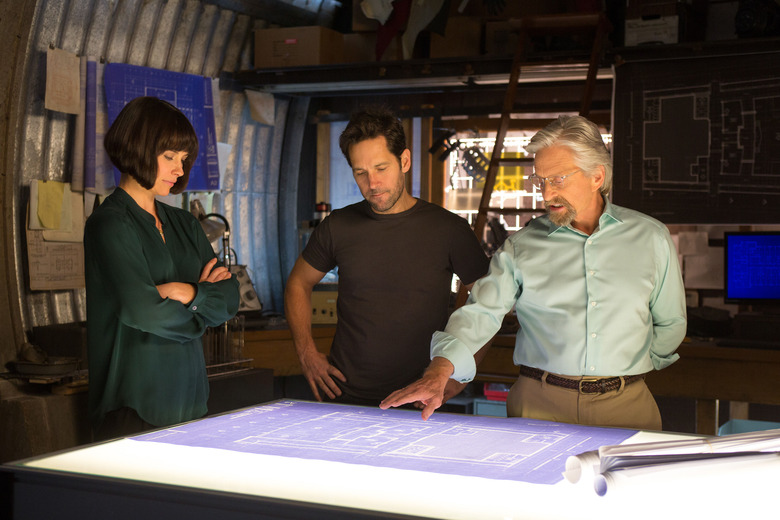 As New York Comic-Con gets underway, Marvel Studios has made some big changes to its Phase Three plans. Among other things, an Ant-Man sequel, titled Ant-Man and the Wasp, is now set for 2018. Paul Rudd and Evangeline Lilly are expected to reprise their roles as Scott Lang and Hope Van Dyne. More on Ant-Man and the Wasp after the jump. 
Marvel Studios officially announced Ant-Man and the Wasp today. As the studio points out, the film "will mark the first Marvel Studios film named after its heroine." (Though we should point out this isn't exactly Captain Marvel or Wonder Woman, as the male hero is still named first.) Ant-Man and the Wasp opens July 6, 2018.
An Ant-Man sequel was not included in Marvel's initial Phase Three announcements, but one was pretty much guaranteed after the Peyton Reed-directed film grossed $409 million worldwide this summer. As of yet, there's no word on who'll write or direct Ant-Man and the Wasp.
The bigger surprise is the inclusion of Wasp in the title. However, there were hints that her character would become more prominent in the franchise. An end-credits sequence set up Hope as the new Wasp, and Kevin Feige promised she'd make her superhero debut in Phase Three.
Although Marvel revealed its Phase Three plans some time ago, they've also shown a willingness to tweak them as needed. When Marvel and Sony finally struck a deal to bring Spider-Man into the MCU, Thor: Ragnarok, Black Panther, Captain Marvel, and Inhumans were all pushed back to make room for the Spidey standalone.
Ant-Man and the Wasp takes over the slot reserved for Black Panther, so Black Panther is now moving up to February 16, 2018. That actually brings it closer to its originally announced release date (November 3, 2017), from back before Spider-Man threw the rest of Phase Three for a loop. But you can read more about that, and the other changes to Marvel's future plans, here.