'Inside Out' Deleted Scene: Bing Bong Used To Be A "Radical Non-Conformist"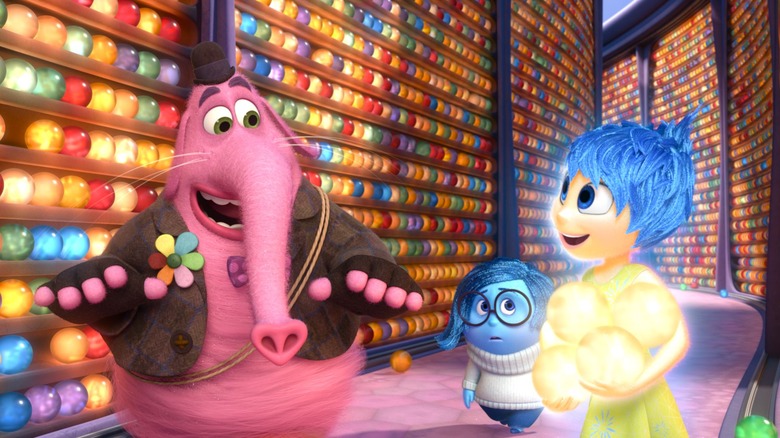 Bing Bong has plenty of reason to be suspicious of change in Inside Out. As Riley's imaginary friend, he gets shoved further into the sidelines the older she gets. But at one point in the development and production process, director Pete Docter imagined the lovable creature as being a bit more disgruntled, and a bit more active in his resistance to change.
A just-released deleted scene shows an earlier version of Bing Bong that Docter describes as "a radical non-conformist" and "an even more extreme version of Joy." Watch the Inside Out deleted scene after the jump. 
Collider shared the Inside Out deleted scene.
It's often interesting to see how a beloved film evolved over the course of its development. But Pixar's process is particularly fascinating because the studio isn't shy about going back and drastically reworking projects if they deem it necessary. The reason we're getting two Pixar films this year, for example, was because the studio changed course on The Good Dinosaur, with an entirely new director and new voice cast.
The "radical non-conformist" Bing Bong is quite entertaining, but he's very different from the sweet, earnest creature (voiced by Richard Kind) who reduced us to sobbing messes in the finished film. Because of course Pixar went with the version that'd make audiences cry way more.
Inside Out hits Digital HD and Disney Movies Anywhere on October 13, and then Blu-ray and DVD on November 3.
From an adventurous balloon ride above the clouds to a monster-filled metropolis, Academy Award®-winning director Pete Docter ("Monsters, Inc.," "Up") has taken audiences to unique and imaginative places. In Disney•Pixar's original movie " Inside Out," he will take us to the most extraordinary location of all—inside the mind.
Growing up can be a bumpy road, and it's no exception for Riley, who is uprooted from her Midwest life when her father starts a new job in San Francisco. Like all of us, Riley is guided by her emotions – Joy (Amy Poehler), Fear (Bill Hader), Anger (Lewis Black), Disgust (Mindy Kaling) and Sadness (Phyllis Smith). The emotions live in Headquarters, the control center inside Riley's mind, where they help advise her through everyday life. As Riley and her emotions struggle to adjust to a new life in San Francisco, turmoil ensues in Headquarters. Although Joy, Riley's main and most important emotion, tries to keep things positive, the emotions conflict on how best to navigate a new city, house and school.