Screenwriter Andrew Kevin Walker Wants A '8MM' Remake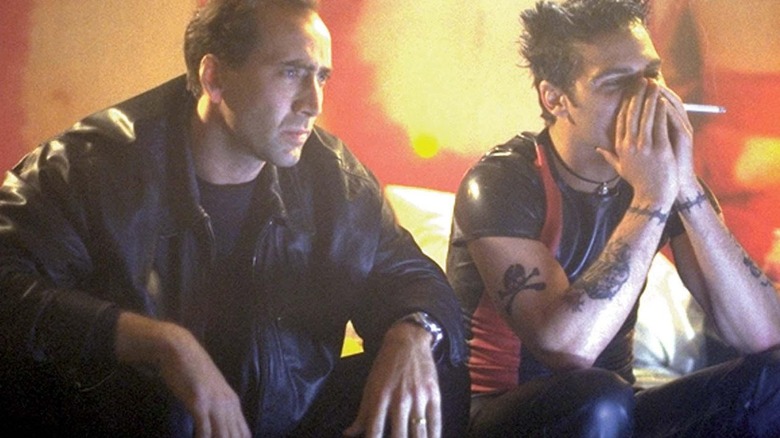 This year marks the 20th anniversary of director David Fincher's (The Social Network) breakout film, Se7en. The thriller not only launched Fincher's feature filmmaking career, but it also made Andrew Kevin Walker an in-demand writer. Walker's followup, 8MM, made less of a cultural, critical, and box-office impact. Director Joel Schumacher (Tigerland) turned his hot spec script into a so-so thriller. Walker, personally, wouldn't mind seeing a 8mm remake. Learn why after the jump.
Nicolas Cage played Tom Welles, a private investigator hired to find out if a "snuff film" is legit. For a studio movie, 8MM is unexpectedly bleak at times, but it never fully commits to its darkness or its implied themes.
Walker has never had kind words to say about the finished film, especially in this interview with The Guardian.
It was such an inherently depressing experience that the very least I can do is protect myself from the miserable experience of actually watching it. Here's this movie with my name on it and, just from the trailers I've seen, there are lines I don't want to take credit for. 'You dance with the devil, the devil don't change, the devil changes you.' That wasn't my favorite thing. One of the things I'm realizing is how inherently unsatisfying the career of screenwriter can be.
There's a handful of excellent scenes in 8MM, like when Joaquin Phoenix's character offers the investigator a battery-operated vagina. Phoenix and Cage are a fine pairing, but Cage is left adrift. On multiple occasions, Max California (Phoenix) suggests to Welles he's in too deep, and yet you never get a sense of that, despite Welles' cheesy black leather jackets and dark t-shirts. The character's arc is murky, and so is the rest of the film. California frequently mentions the devil, as if he's making important thematic statements, but the movie never really has anything to say about evil.
In a new interview with Uproxx, Walker is asked about his thoughts on the inevitable Se7en remake; it'll happen one day, let's be honest. The screenwriter is not particularly fond of that proposal, but he's open to an 8MM remake.
Half-jokingly my reaction would be, why don't we leave Seven alone and I think it's time to go re-make 8MM, which I would love to do. But if they want to make Seven into a TV show, if they want to make Seven into a cartoon — there was a comic book exploring John Doe's character, which I think is not an interesting exploration — you don't have any control over it. You just have to go with the flow. But it's been nice that it's been this movie that has not be remade or sequelized or prequelized. That's been terrific.
8MM is a fine, occasionally above-average film, but with its concept, it could've been so much more than "fine." Schumacher doesn't even come close to capturing the tension and emotion of Fincher's thriller. On top of that, the ending isn't half as powerful as Se7en's. Nobody wants a remake of the classic 1995 picture, but a redo of 8mm isn't a bad idea, especially if it's more faithful to Walker's script.
Over the past few years Fincher and the screenwriter have attempted to make a handful of projects together, like 20,000 Leagues Under the Sea and and The Reincarnation of Peter Proud. The screenwriter has done uncredited rewrites on some of Fincher's films, but we haven't seen a movie with his name on it since 2010's The Wolfman.
The last great project we saw from Walker was the BMW short film, The Follow, directed by Wong Kar-wai (In the Mood for Love), a 10-minute commercial I often revisit.