'Crimson Peak' Clip And Features: Guillermo Del Toro's Latest Is Fabulous Designer Porn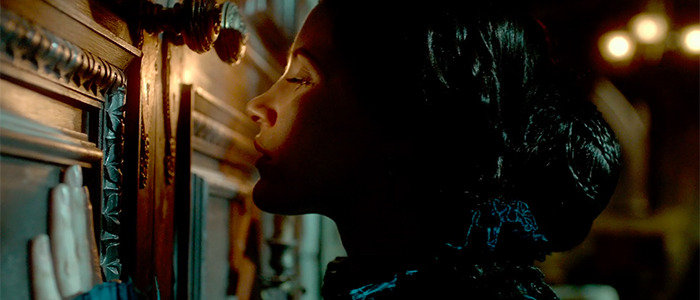 We're a week and a half away from the opening of Guillermo del Toro's Crimson Peak. The buzz is strong for the director's horror-romance, but it's still a financial gamble. Del Toro's film is an original, R-rated period piece, which are never a sure thing at the box-office. Then again, there's nothing else quite like Crimson Peak coming out anytime soon, so maybe that'll be enough to draw general audiences in. It's a very good, beautifully directed movie — and a Crimson Peak clip, a handful of features and TV spots highlight the beauty of del Toro's latest. Check them out after the jump.
The film stars Mia Wasikowska (The Double), Tom Hiddleston (Only Lovers Left Alive), Jessica Chastain (Zero Dark Thirty), and Charlie Hunnam (Pacific Rim). Set in the late 19th century, Crimson Peak is a ghost story about the secrets that eat away at the Sharpe family mansion and its inhabitants.
The first clip for the film is heavy on metaphor. Edith (Wasikowsa) is a butterfly, Lucille (Chastain) is a black moth. This gives you a sense of Jessica Chastain's chilly performance, which is very Jack Nicholson-y. You'll know what I mean when you see the movie.
Crimson Peak Clip
The Crimson Peak set is phenomenal. Each crack in the Sharpe's home lends the film personality. The house reflects the mental state of the characters, so it's not just designer porn — although each part of Crimson Peak is pure eye candy.
They built the set in Toronto. It's a shame they had to tear it down, because it's a production designer's dream home. Del Toro says it's his favorite set he's worked on, and watching these features, it's obvious why that is.
This next feature is more plot-heavy, so if you've heard enough about Crimson Peak already, you should probably stop now. Hiddleston makes a great point here, about how the film shrinks in scale as it goes along. The ghost story becomes more intimate in the third act, even as all hell breaks loose.
The mansion sits on a red clay mine. It's a big plot point in the film, and it makes for an effective visual metaphor. Here's del Toro and the cast explaining the red clay mines:
If you want to know how del Toro uses design to define character, this next feature explains how:
These TV spots are fairly misleading. The use of music and sound is all wrong for this movie. To be fair, these are the kind of advertisements that'll get butts in seats. If the film was sold for what it is — a romance first, horror movie second — it probably wouldn't produce a major opening weekend at the box-office. Author Joe Hill (Horns) called Crimson Peak "del Toro's blood-soaked Age of Innocence" for a reason.
Crimson Peak opens in theaters October 16th.
Legendary Pictures' CRIMSON PEAK, a co-production with Universal Pictures, is a haunting gothic horror story directed by the master of dark fairy tales, Guillermo del Toro (Pan's Labyrinth, Hellboy series, Pacific Rim), written by del Toro and Matthew Robbins and starring Mia Wasikowska, Jessica Chastain, Tom Hiddleston and Charlie Hunnam. In the aftermath of a family tragedy, an aspiring author is torn between love for her childhood friend and the temptation of a mysterious outsider. Trying to escape the ghosts of her past, she is swept away to a house that breathes, bleeds...and remembers. Thomas Tull, Jon Jashni, del Toro and Callum Greene produce, and Jillian Share executive produces.