Ellen Page In Talks To Lead 'Flatliners' Remake From 'Dragon Tattoo' Director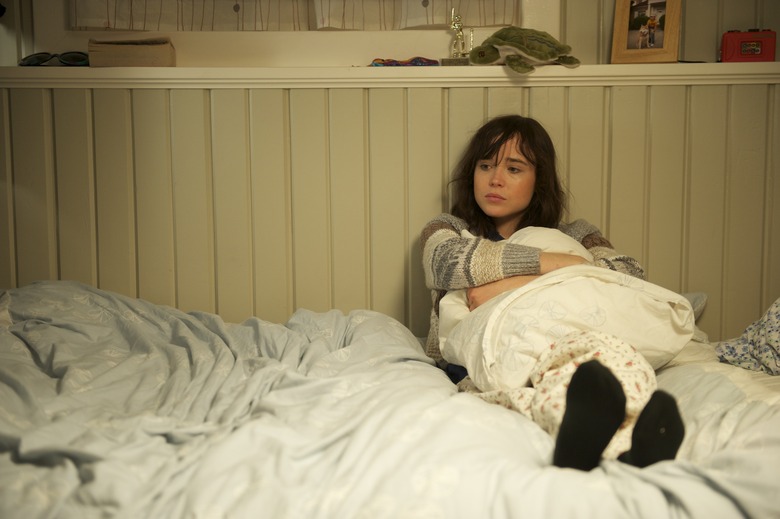 Ellen Page may be this generation's Julia Roberts. The Freeheld star could lead a remake of Roberts' 1990 sci-fi thriller Flatliners, about a group of medical students who experiment with near-death experiences. (Because what could possibly go wrong?) Niels Arden Oplev, of the Swedish The Girl With the Dragon Tattoo adaptation, is directing.
Learn all about the Ellen Page Flatliners remake after the jump. 
Variety reports Page is currently in talks for the Flatliners remake. Oplev will direct from a screenplay by Ben Ripley (Source Code). David Blackman and Laurence Mark are producing. The project has been in the works for several years already; we first reported on Ripley's involvement all the way back in 2011.
Directed by Joel Schumacher, the original Flatliners starred Roberts, Kiefer Sutherland, Kevin Bacon, William Baldwin, and Oliver Platt as five medical students who want to discover what lies beyond death. They subject themselves to near-death experiences, briefly flatlining and exploring the afterworld before being resuscitated by the others. Predictably, the consequences of their tests quickly spin out of control.
Flatliners earned mixed reviews and a decent chunk of money when it opened in 1990. It's not exactly what you'd call an unassailable classic, but maybe that's why it makes sense to remake it. There aren't many Flatliners diehards who'll cry foul at the thought of a do-over, and there's plenty of room for the filmmakers to improve on or even completely reinvent the original.
Page is just coming off the LGBT rights drama Freeheld, which opened in limited release last weekend. In addition to starring opposite Julianne Moore, Page also produced the picture. Earlier this fall, she hit the Toronto Film Festival to debut Into the Forest with Evan Rachel Wood. A24 scooped it up for release in the U.S., but hasn't yet set a release date.
Oplev is a Danish director best known in the U.S. for directing The Girl With the Dragon Tattoo and the crime thriller Dead Man Down. He's also helmed several television shows including the pilots of CBS' Under the Dome and USA's surprise summer smash Mr. Robot.