Cast Photo And Concept Art: Colin Trevorrow's 'The Book Of Henry'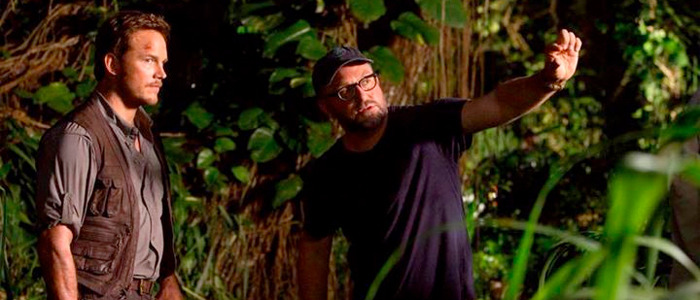 Star Wars Episode 9 director Colin Trevorrow's Jurassic World follow-up The Book Of Henry starts filming today. Focus Features has sent out a press release announcing the start of production and Trevorrow took to twitter to release the first photo of his film's cast. And if you look closely, you might see some concept art in the background. Hit the jump to see the photo and learn more from the official press release.
Here is The Book Of Henry cast photo that was tweeted out by director Colin Trevorrow:
Casting is everything. @jaedenlieberher @maddieziegler @jacobtremblay #TheBookofHenry pic.twitter.com/2xCgoHnETg

— Colin Trevorrow (@colintrevorrow) October 5, 2015
Trevorrow notes that "Casting is everything." The photo features The Book of Henry cast members Jaden Lieberher, Maddie Ziegler and Jacob Tremblay. And as I noted above the jump, if you look in the background of the photo you can see a few pieces of concept art hanging. Here is a zoomed in look: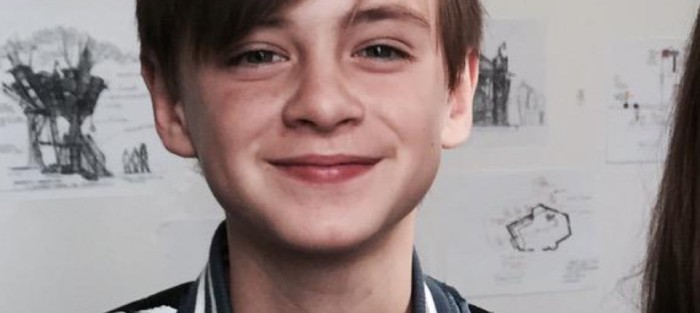 Looks like some kind of tree house or tree fort to me. The story follows a single mother raising two boys, one of whom is a genius. So I imagine the genius child was maybe the one to build this elaborate tree house?
And the press release below reveals that newcomer Maddie Ziegler (who has appeared in music videos and Lifetime's long-running reality show Dance Moms) and Bobby Moynihan (Saturday Night Live) have been officially cast in the film:
PRODUCTION BEGINS ON THE BOOK OF HENRY, STARRING NAOMI WATTS, JACOB TREMBLAY, JADEN LIEBERHER; COLIN TREVORROW DIRECTS FROM GREGG HURWITZ SCREENPLAY
NEW YORK, October 5, 2015 – Filming has begun locally on The Book of Henry, director Colin Trevorrow's (Safety Not Guaranteed) first feature as director since this year's blockbuster Jurassic World (which has grossed nearly $1.7 billion worldwide). Focus Features is overseeing the production and holds worldwide rights, including for domestic release.
The original screenplay for The Book of Henry is by acclaimed novelist Gregg Hurwitz. Two-time Academy Award nominee Naomi Watts stars in the film alongside young actors Jacob Tremblay (of this year's Toronto International Film Festival hit Room) and Jaden Lieberher (of St. Vincent and the upcoming Midnight Special). The supporting cast includes Dean Norris (Breaking Bad), Lee Pace (The Hobbit trilogy, Guardians of the Galaxy), Emmy Award winner Sarah Silverman, Maddie Ziegler (of Sia's music videos "Chandelier" and "Elastic Heart"), and Bobby Moynihan (Saturday Night Live).
The Book of Henry is the story of a single mother raising two boys, one of whom is a genius. The film is being produced by Sidney Kimmel Entertainment's (SKE) Sidney Kimmel and Carla Hacken, and by Double Nickel Entertainment's Jenette Kahn and Adam Richman. Executive-producing are Sue Baden-Powell and SKE's John Penotti.
Academy Award nominee John Schwartzman (Jurassic World, Saving Mr. Banks) is director of photography on The Book of Henry. Melissa Toth (Focus' Eternal Sunshine of the Spotless Mind) is the costume designer, and Kevin Stitt (Jurassic World) is the film editor. Emmy Award winner Kalina Ivanov (Grey Gardens) is the production designer.
Focus Features (www.focusfeatures.com) makes, acquires, and releases movies from rising and established talent and filmmakers. The diverse slate of movies includes several specialty films each year.
In addition to The Book of Henry, upcoming releases from Focus include the stirring drama Suffragette, directed by Sarah Gavron and starring Carey Mulligan, Helena Bonham Carter, and Meryl Streep; Academy Award-winning director Tom Hooper's The Danish Girl, the remarkable love story inspired by the lives of Lili Elbe and Gerda Wegener (Academy Award winner Eddie Redmayne and Alicia Vikander); Kubo and the Two Strings, the new family event movie from animation studio LAIKA, directed by Travis Knight with a voice cast that includes Matthew McConaughey, Charlize Theron, Rooney Mara, Ralph Fiennes, Brenda Vaccaro, and Art Parkinson; Stephen Hopkins' Race, starring Jeremy Irons, Jason Sudeikis, and Stephan James as the legendary athletic superstar Jesse Owens; Cyrus Nowrasteh's The Young Messiah, the inspiring and unique story of seven-year-old Jesus Christ; and Juan Antonio Bayona's visually spectacular drama A Monster Calls, starring Lewis MacDougall, Felicity Jones, and Liam Neeson.
Focus Features is part of NBCUniversal, one of the world's leading media and entertainment companies in the development, production, and marketing of entertainment, news, and information to a global audience. NBCUniversal owns and operates a valuable portfolio of news and entertainment television networks, a premier motion picture company, significant television production operations, a leading television stations group, and world-renowned theme parks. NBCUniversal is a subsidiary of Comcast Corporation.