Channing Tatum's 'Forgive Me, Leonard Peacock' Has Found Its Writer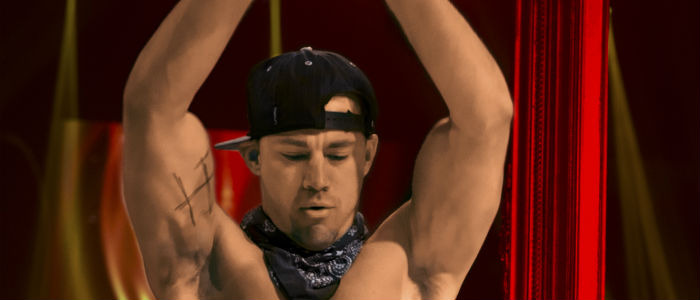 For a few years now Channing Tatum has expressed interest in directing. He's produced a few films, including Magic Mike XXL and 22 Jump Street, but he's finally stepping behind the camera. The actor is set to make his directorial debut with an adaptation of Forgive Me, Leonard Peacock, which now has a writer onboard. Read more about the Forgive Me, Leonard Peacock writer after the jump.
Based on Matthew Quick's (Silver Linings Playbook) young adult novel, the story is about a high school student who plans to kill his best friend and then himself with a P-38 Nazi pistol his grandfather gave him. According to Deadline, Tatum and the Weinstein company have enlisted Mike Vukadinovich to write the script. Vukadinovich doesn't have any produced credits, but he currently has two films in development: Pete and Goat and Rememory.
Tatum considered directing Magic Mike XXL as his first time effort, but then he came to his senses (source: Vulture):
We're not going to direct our first movie as a sequel to a Steven Soderbergh movie. That's not smart. I want to start with something very small ... make a lot of mistakes, make them real early, and then go jump in [on Magic Mike 2]... I could look at how he uses the camera, how he sets up shots, how he makes his decisions, but at the end of the day, it's really how he sees the world, and we'll never be able to copy Soderbergh. No one can. Even if you tried to copy him, you can't, because it's always going to be a reflection of yourself.
With material as sensitive and as timely as Forgive Me, Leonard Peacock, it's probably not the best film to make mistakes on. The subject matter clearly means a lot to Harvey Weinstein, who's also planning on producing an anti-NRA film starring Meryl Streep.
James Ponsoldt (The End of the Tour) was once attached to write and direct Forgive Me, Leonard Peacock, which he discussed with us back in 2013. Here's what he had to say about it:
It's an amazing book that I'll adapt and direct. Its premise sounds really terrifying, the initial premise about a boy who's going to school to shoot his ex-best friend, and he wants to give gifts to a few people before he dies. So it starts as though it might be a school shooting movie. But it actually goes to a place that's much more — it doesn't judge, it doesn't sensationalize, it actually tries to really understand this character and understand how he came to be where he is, and it's not a violent film. It's a film that has a heart and soul and I think it's really surprising and moving. I think when people hear the premise, they'll be like "uhhh." But I think it's an approach with a real respect for the characters. It allows them to be human and dignifies them. It doesn't judge them, and it doesn't make them the other.
Forgive Me, Leonard Peacock is definitely an ambitious undertaking. Tatum may additionally co-star as a teacher. The film sounds like a small-scale story, but again, material this challenging requires a delicate and sensitive approach. Hopefully Tatum has it in him to direct a thoughtful take on this subject matter.