'Triple 9' Red Band Trailer: This Little Piggy Went To The Market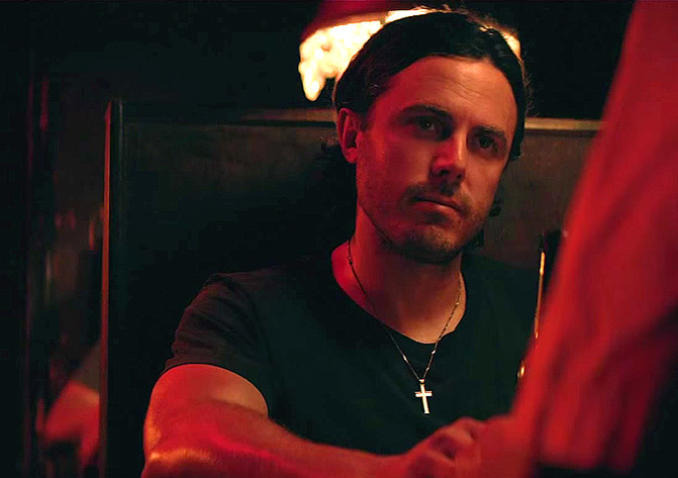 Director John Hillcoat has yet to make a major box-office hit. The director behind Lawless, The Road, and the incredible 2005 western, The Proposition, makes bleak and brutal movies about the violent side of humanity. If this Triple 9 red band trailer is any indication, though, he may have finally brought his sensibility to a commercial project. Watch the Triple 9 Red Band Trailer now after the jump.
The film stars Casey Affleck, Woody Harrelson, Chiwetel Ejiofor, Aaron Paul, Anthony Mackie, Gal Gadot, Norman Reedus, Teresa Palmer, Clifton Collins, Jr., and an almost unrecognizable Kate Winslet. Not until the trailer started listing its all-star cast did I even realize that was Winslet, who, I must say, really knows how to rock a power suit.
Hillcoat's latest is about a pack of dirty cops forced by the Russian mob to pull off a heist, which, undoubtably, doesn't go according to plan.
Here's the Triple 9 red band trailer (source: Yahoo Movies):
"Your job: out monster the monster" is a line that could apply to almost all of Hillcoat's films. The director takes violence seriously, and as slick as this trailer is, the violence isn't glamorized. Even in a movie as fun as Lawless, Hillcoat doesn't soften any of the kills, despite the ending feeling a bit like a copout.
This Triple 9 trailer plays like a nightmare. Sure, the use of "This Little Piggy" is a tad unsubtle for a movie about cops, but it works wonders with Hillcoat's striking shots. The children singing along to horrific imagery makes for a rather alluring and unsettling atmosphere.
If there's anything disappointing about this trailer, it's that the director's lucky charm, Guy Pearce, isn't in it. The actor has appeared in Hillcoat's last three films. His performance in The Proposition is one of his best, while his villainous turn in Lawless is wonderfully revolting. Then again, we shouldn't complain, since the cast in Triple 9 is nothing sort of excellent. Casey Affleck is generally a strong supporting player, but he's also proven himself as a capable leading man.
Triple 9 opens in theaters February 19th, 2016.
In Triple 9, a crew of dirty cops is blackmailed by the Russian mob to execute a virtually impossible heist and the only way to pull it off is to manufacture a 999, police code for "officer down." Their plan is turned upside down when the unsuspecting rookie they set up to die foils the attack, triggering a breakneck action-packed finale tangled with double-crosses, greed and revenge.