Report: 'Star Wars Episode VIII' Adds Gugu Mbatha-Raw [UPDATED]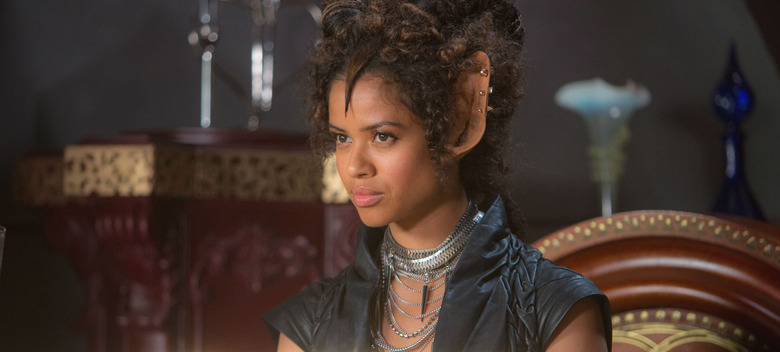 UPDATE: Collider is now reporting that Gugu Mbatha-Raw has indeed been cast in Star Wars Episode VIII. Disney has yet to confirm her casting, and no details about her character have been revealed. Original story from 10/2/15 follows.
As if that earlier Star Wars Episode VIII shortlist — which included Orphan Black's Tatiana Maslany, Jane the Virgin's Gina Rodriguez, and Me and Earl and the Dying Girl's Olivia Cooke – weren't intriguing enough, a new report claims there's one more name in the mix. Gugu Mbatha-Raw is reportedly also in the running for film.
Read all about the Star Wars Episode VIII Gugu Mbatha-Raw rumor after the jump. 
Latino Review reports that not only is Mbatha-Raw under consideration, she's already auditioned for the film. What's really exciting is that Lucasfilm may not have to choose just one of these talented young actresses. The site has heard there are two major female roles in Episode VIII, and that they share the same shortlist. (Yeah, that still means at least two of these women won't get it, but that's better than three of them getting turned down, right?)
Mbatha-Raw has been in high demand since the one-two punch of Belle and Beyond the Lights last year. Earlier this year she got to zip around outer space in the Wachowskis' Jupiter Ascending, and later this year we'll see her in the NFL drama Concussion opposite Will Smith. And just this week, we heard she was in the running for Robin Hood: Origins starring Taron Egerton.
Very few details are known about the plot of Episode VIII. We did hear last month that Cooke, Rodriguez, and Maslany would be doing chemistry tests with The Force Awakens star John Boyega, so it's clear he'll play an important role in the narrative. It's also known that Benicio del Toro will star, although it remains unclear if he's the villain.
Rian Johnson is directing Star Wars Episode VIII from a script he wrote. Ram Bergman will produce with Kathleen Kennedy. Some shooting for the film is already underway, but it'll really ramp up next year. The film will arrive in theaters May 26, 2017.