Final 'Spectre' Trailer: Sam Mendes And Daniel Craig Bring The Action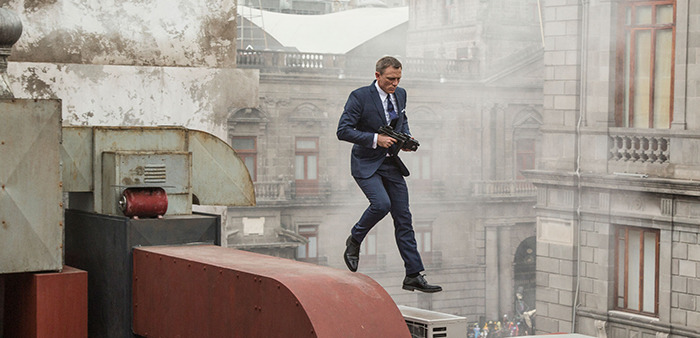 Daniel Craig recently said he'd be happy to play Bond as long as he was "physically able," but as the Spectre final trailer shows, playacting a globe-trotting super-spy takes quite the toll on a man's body. The new promo brings the action, from boat chases and explosions to upside-down helicopters and good old-fashioned fistfights. Watch the final Spectre trailer after the jump.
Sony posted the Spectre final trailer on YouTube.
The new Bond film has quite a cast, but the Spectre final trailer mostly limits its focus to Bond and his new archnemesis Oberhauser, played by Christoph Waltz. They share one of those classic 007 exchanges, with Bond coolly informing Oberhauser, "I came here to kill you," and Oberhauser just as coolly responding, "I thought you came here to die."
Spectre arrives November 6 in the U.S. and October 26 in the U.K. Skyfall director Sam Mendes returns to the helm. Ralph Fiennes, Ben Whishaw, Rory Kinnear, Jesper Christensen, and Naomie Harris are back from previous movies, while Léa Seydoux, Monica Bellucci, Stephanie Sigman, Andrew Scott, and Dave Bautista join the franchise for the first time.
Here's a detailed Spectre synopsis via 007.com:
A cryptic message from the past sends James Bond on a rogue mission to Mexico City and eventually Rome, where he meets Lucia Sciarra (Monica Bellucci), the beautiful and forbidden widow of an infamous criminal. Bond infiltrates a secret meeting and uncovers the existence of the sinister organisation known as SPECTRE.
Meanwhile back in London, Max Denbigh (Andrew Scott), the new head of the Centre for National Security, questions Bond's actions and challenges the relevance of MI6, led by M (Ralph Fiennes). Bond covertly enlists Moneypenny (Naomie Harris) and Q (Ben Whishaw) to help him seek out Madeleine Swann (Léa Seydoux), the daughter of his old nemesis Mr White (Jesper Christensen), who may hold the clue to untangling the web of SPECTRE. As the daughter of an assassin, she understands Bond in a way most others cannot.
As Bond ventures towards the heart of SPECTRE, he learns of a chilling connection between himself and the enemy he seeks, played by Christoph Waltz.