New 'Star Wars' Trilogy Will Continue The Skywalker Family Saga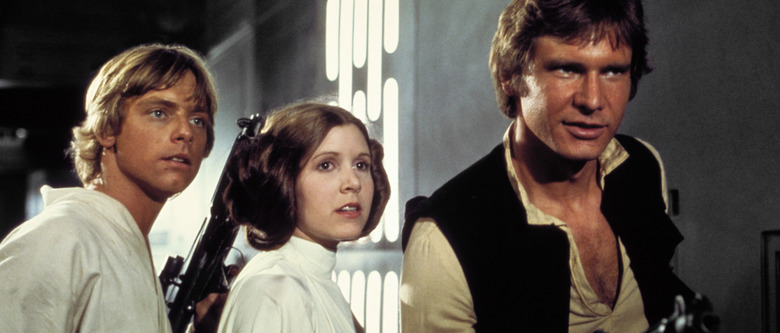 As the Star Wars saga barrels forward with new settings, new gadgets, new vehicles, and new characters, one thing remains the same. At heart, Lucasfilm president Kathleen Kennedy says, it'll still be a story about the Skywalker family. And that likely includes at least one new The Force Awakens character. Read Kennedy's quote about plans for the Skywalker family after the jump. 
Kennedy talked Star Wars with Costco Connection magazine. "The Saga films focus on the Skywalker family saga," she said. "The stories follow a linear narrative that connects to the previous six films. The Force Awakens follows Return of the Jedi and continues that generational story."
It isn't surprising that the Skywalker family will continue to play a key role in the Star Wars franchise. But Kennedy's comment suggests we'll be meeting some younger members of the family to keep the "generational story" moving forward. Not to downplay Mark Hamill or Carrie Fisher's importance to the franchise, but they don't seem to be the central characters in The Force Awakens.
The question, of course, is which new Force Awakens character might secretly be a Skywalker. Director J.J. Abrams has teased that the last names of Finn (John Boyega) and Rey (Daisy Ridley) are very deliberately being kept under wraps, and he's also let on that "Kylo Ren" is not the birth name of the character played by Adam Driver.
While the Skywalker family drama continues to unfold in the Saga films (the ones labeled "Episode [insert Roman numeral here]"), other corners of the Star Wars galaxy will come into focus in the Anthology films. "The Anthology films offer opportunities to explore fresh characters, new storylines and a variety of genres inside the Star Wars universe," said Kennedy.
The next Saga movie, Star Wars: The Force Awakens, arrives December 18. The first Anthology movie, Star Wars: Rogue One, lands December 16, 2016.