'24': Kiefer Sutherland Is Done With Jack Bauer For Good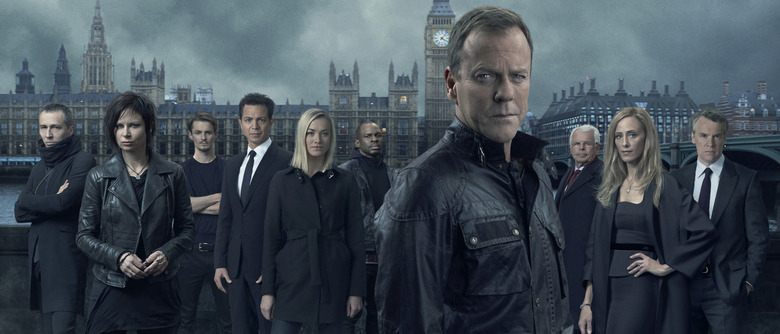 Jack Bauer has bounced back from many things, but it seems we've finally seen the last of him. 24 star Kiefer Sutherland, who played the beleaguered counter-terrorism agent across eight seasons, a TV movie, and a miniseries, has confirmed he's "definitely" not returning to the role. Read the 24 Kiefer Sutherland quotes after the jump.
In a conversation with the BBC, Sutherland confirmed he will "definitely not return in any way" to the series. In case that didn't make his stance clear, he added, "24 is definitely over now for me." His reason is simple and unsurprising: "It's one of the greatest gifts I've ever been given as an actor, but it's moving on without me. I want to do other things."
Sutherland starred as Jack Bauer from 2001 to 2010, and then resurrected the role last year for 24: Live Another Day. But Sutherland has indicated that he's ready to leave Jack Bauer behind for good. "Me, I don't see going back to it," he said in December. (He did acknowledge he'd said the same thing after Season 8, only to return for Live Another Day.)
Meanwhile, network FOX clearly wants to keep the party going. There's been talk of another 24 season or a movie, but both seem unlikely to happen without Sutherland's involvement. A few months ago, they changed their approach and started developing a spinoff that would center on a younger male agent rather than Jack Bauer. At the time, the hope was that Sutherland would return in a recurring role.
Although he's done with Jack Bauer, Sutherland is not done with the small screen. "I want to do more television," he revealed. "My experience of 24 was unbelievable, but the main benefit was that it was nice to do something that people actually watched, and that they enjoyed."
But it might be a while before he finds another project that strikes his fancy. "You have to take your time though to find something like [24] – and that means you have to work less," he said. "So I'll be waiting for something that's worth it, with the potential for the kind of audience access that 24 had."