A 'Southpaw' Re-Release Is Coming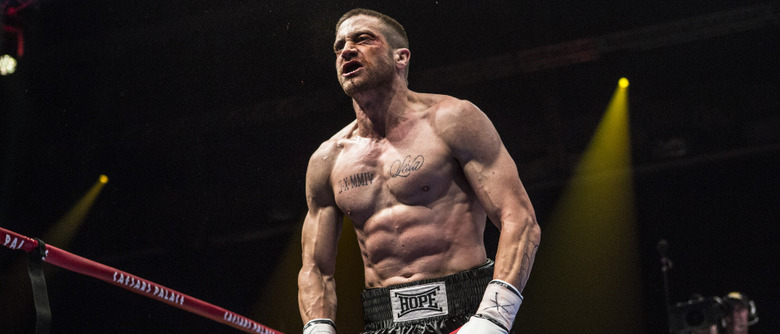 Southpaw was a mild success. The Antoine Fuqua-directed boxing pic was forecast as an Awards contender, with plenty of buzz going around for Jake Gyllenhaal's performance. While the film might not go that distance, a Southpaw re-release is happening. So if you missed out on the pretty decent and pretty on-the-nose drama, it's returning to theaters this Friday. Learn why after the jump.
The Weinstein Company planned on pushing hard to get Gyllenhaal's performance recognized by the Academy, and even after so-so reviews, that doesn't alter their plan. The film, which was released in late-July, made an impressive $52.1M domestically. Fuqua's pic is now returning to a total 300 screens stateside, because TWC wants to put the movie back into theaters for "a more drama and awards-focused fall audience." Over the next few months The Weinsteins are releasing a new drama from Todd Haynes, Carol, John Wells' Burnt, and Quentin Tarantino's western,  The Hateful Eight– and all three of those films are the more Awards-friendly movies.
Jake Gyllenhaal's transformation into Billy Hope — the movie was all about hope, in case the character's name was too subtle for you — was stunning. The Nightcrawler actor gave a heartfelt performance, and he would have a decent shot at an Oscar nomination if the movie was in the same league with that performance.
Fuqua (Training Day), of course, is pleased hearing the news of a Southpaw re-release.
I'm very proud of this film and honored that TWC is giving audiences another chance to see it in theaters. Jake and the entire cast give extraordinary performances that deserve to be seen by as many people as possible.
The film's main problem is summed up by screenwriter Kurt Sutter in this interview with Vulture. The Sons of Anarchy creator, when asked what makes Southpaw different, admitted that the film doesn't stray too far from genre expectations.
I think you go to a boxing movie with a certain amount of expectation, and there are certain stereotypes you can't avoid because it's boxing — there's fights and there's winners and there's losers. I would say that this movie has such incredible performances.
Plenty of great movies have leaned heavily on conventions, but sometimes when a script checks too many boxes, and blatantly, it's far from thrilling to watch. Fuqua crafted some impressive fight scenes, James Horner's score packed some emotion, and Sutter is right — the performances are impressive. Southpaw is a perfectly fine crowd-pleaser, but not much more than that.
Southpaw opens, again, in theaters October 2nd.