'Gold' First Look: Stephen Gaghan's New Film Is Sweaty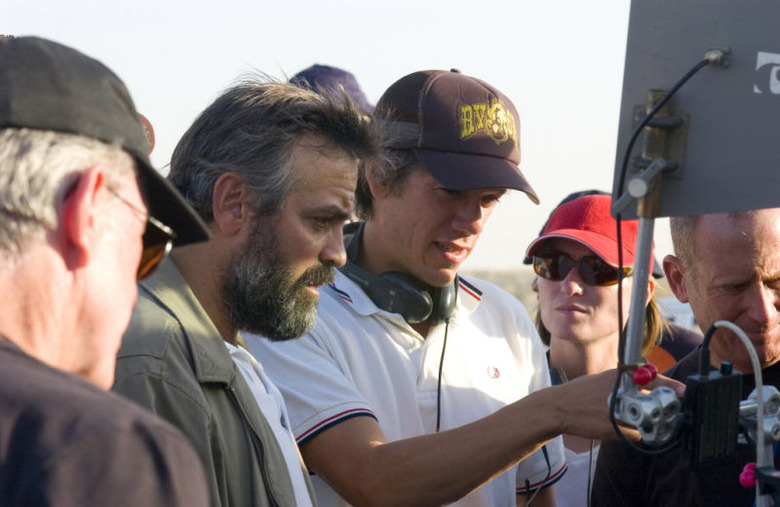 Stephen Gaghan (above, center) doesn't direct as many movies as we'd like to see him make. The Academy Award-winning writer behind Traffic hasn't directed a movie for the big screen since 2006's Syriana. Gaghan is known for writing more adult material than your typical studio movie, and because of that, he probably struggles to get his movies made. Thankfully, the writer and director is back behind the camera again, with Matthew McConaughey and Edgar Ramirez headlining his newest picture. We now have our Gold first look. Behold the film's bald and sweaty McConaughey after the jump.
Based on a true story and set in the early '90s, the film stars McConaughey as a businessman, Kenny Wells, who goes hunting for gold in the Indonesian jungle. At his side is Ramirez, playing an equally desperate geologist. Speaking of desperate, just look at the two actors in this photo, which was revealed by EW. The two men look like hell, which is rarely how anyone describes Ramirez and McConaughey.
Here's our Gold first look: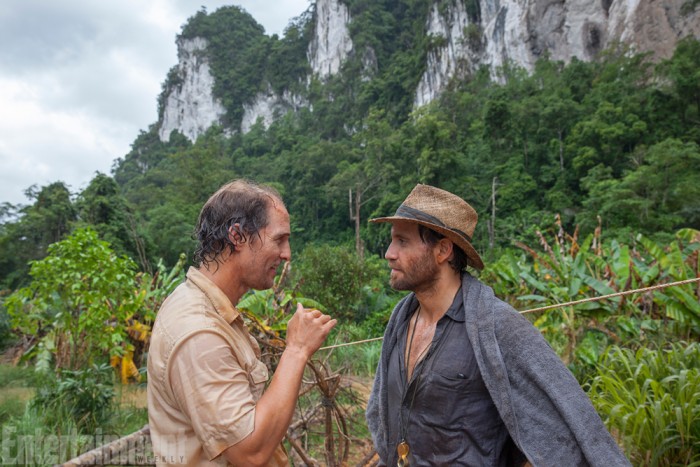 This image and the plot synopsis has The Treasure of the Sierra Madre written all over it. Gold has been drawing in A-list talent for years now. Michael Mann (Heat) was once attached to direct the project. After he departed from Gold, along with its potential star, Christian Bale, Spike Lee (Do the Right Thing) swooped in. Ultimately, the film ended up in the hands of Gaghan, a more than capable filmmaker; he helped secure George Clooney an oscar for his supporting performance Syriana. For the past few years, the screenwriter has been developing projects that never came to fruition. Two years ago he was going to make Candy Store, starring Jason Clarke (Zero Dark Thirty) and Omar Sy (The Intouchables), a thriller that we've heard little about since that casting news broke.
Gaghan's directed a little for television and, oddly, even wrote Call of Duty: Ghosts, for which he probably got paid handsomely for. Although he hasn't had many feature films made over the past few years, the Oscar winner is a well-respected and in-demand writer. One of the last movies we saw with his name on was M. Night Shyamalan's After Earth. Gaghan worked on the project as a "script consultant."
We won't have to wait much longer for Gold. The Weinstein Company is releasing Gaghan's picture next year, which also stars Bryce Dallas Howard (Jurassic World), Corey Stoll (Ant-Man), Bruce Greenwood (Good Kill), and Toby Kebbell (Dawn of the Planet of the Apes).