'Jessica Jones' Trailer: Bad Reputation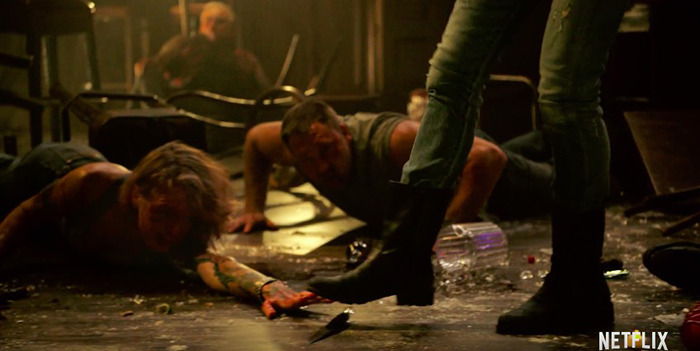 Marvel Entertainment and Netflix have released one more teaser for their upcoming series Jessica Jones, which features Krysten Ritter in the title role. This footage shows Ritter at a bar's jukebox, where she cues up 'Bad Reputation' by Joan Jett, before strolling back across the bar through the remnants of a big fight.
Check out this latest Jessica Jones trailer below.
We still don't know too much about the character; this footage suggests that Jessica Jones can fight (which we knew) and that there's some alcohol in her life, which we also knew thanks to previous teasers. There's not a lot to this footage, but it's a good quick look at the style of the show. No surprise that this looks like it will fit in well, stylistically, with Daredevil.
(There's also a Japanese version of this trailer, which is basically identical except for the rendering of the title. Check it out here if you're interested.)
This Netflix original series, which runs for thirteen one-hour episodes, is the second of a set of four live-action series from Marvel. The set kicked off with Daredevil, and will continue with Luke Cage and Iron Fist. The plan will culminate in a team-up series called The Defenders. Luke Cage is shooting now, and we should start to hear about casting for Iron Fist in the next few months.
Teaser via Netflix. Marvel's Jessica Jones will premiere in full on Netflix November 20, 2015 at 12:01am PT, in all territories where Netflix is available.
Taking place after a tragic ending to her short-lived super hero stint, the new series follows Jessica Jones as she rebuilds her personal life and career as a detective who gets pulled into cases involving people with extraordinary abilities in New York City.
The cast also features David Tennant as Kilgrave, Mike Colter as Luke Cage, Rachael Taylor as Trish Walker, and Carrie-Anne Moss, Eka Darville, Erin Moriarty, and Wil Traval. Marvel's Jessica Jones is exec produced by showrunner Melissa Rosenberg (Twilight, Dexter) and Liz Friedman (Elementary), along with Marvel's Head of Television Jeph Loeb.