Cool Stuff: Find Out How You Can Buy Tyler Stout's 'Avengers: Age Of Ultron' Poster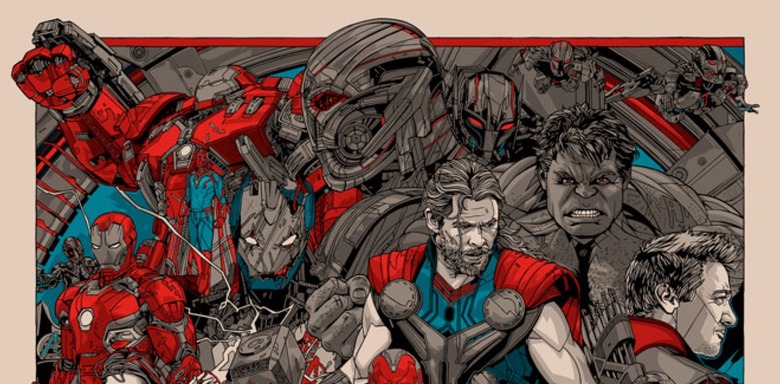 Marvel and Disney have teamed up with Hero Complex Gallery in Los Angeles to release a Tyler Stout Avengers Age Of Ultron poster. Hit the jump to find out how you can buy this limited edition screen print today.
Tyler Stout Avengers Age Of Ultron Posters
This Friday, Avengers: Age of Ultron will be released on home video, Blu-ray and VOD, and to celebrate Marvel has teamed up with Hero Complex Gallery and Tyler Stout to release a limited edition screenprints of his poster for the film. The Regular and Variant Editions will be released on Thursday, October 1st 2015, between 9:00-11:00am Pacific Time. The sale will appear at this link on the Hero Complex Gallery website. Follow the Twitter account of Hero Complex Gallery to be the first to know when the print goes on sale.
Tyler Stout is a highly popular artist, and these prints should go fast so be quick on the finger and act fast. There are three versions of the print:
Regular Edition with Metallic Silver Inks which is an Edition of 750, will be sold for $70.
Variant Edition with Metallic Gold and Silver Inks comes in an Edition of 350, sold for $110.
Cast & Crew Variant Edition with Multiple Metallic Inks which was produced in an edition of 160, won't be available to the public. Rumor has it that some of these might be available as giveaways (along with something else cool) at New York Comic Con.
Please note that the sale is one poster print per household, and the gallery warns that double orders will be refunded. They have also disclosed that they have "included a SUPER SMALL QUANTITY of these" in their Elite Editions sale yesterday that went out to their loyal collector base. So if you purchased the Elite Edition sale earlier in the week, you are covered and don't need to order again. The Gallery warns double orders will be refunded.
Here is a look back at some of the poster prints Tyler Stout has created for Marvel in the past:
Tyler Stout has a long history with Marvel Studios and Marvel head Kevin Feige says that his posters are the only Marvel posters that hang in his personal collection. Previously the Tyler Stour Marvel posters were produced in a collaboration with Alamo Drafthouse's Mondo label, but it appears Disney and Marvel now have some sort of collaboration with Hero Complex Gallery.