Why 'Hotel Transylvania' Director Genndy Tartakovsky Left 'Popeye'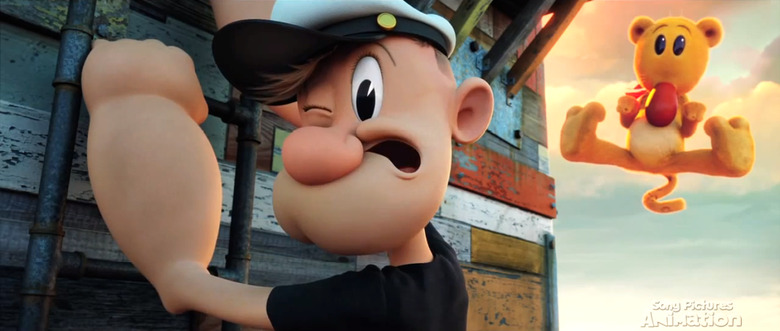 Genndy Tartakovsky has made Sony a decent chunk of change with his Hotel Transylvania films. The sequel, which Tartakovsky helmed, just earned over $50 million this past weekend. One would guess that kind of box-office haul would score the animated director a little cart blanche, but, in spite of his financial success, that's not entirely the case. Learn why after the jump Tartakovsky left Popeye.
The director exited the project back in March. He had been attached to the film for over three years, and was attempting to make a more old school animated movie. Opening up to The Wrap, the Hotel Transylvania director elaborated on why Popeye didn't move forward:
We made a version that we were happy with, and the studio didn't like that version. It's still a mystery for me that they didn't like that version. They wanted to do "Popeye" for the brand recognition and I loved the character and grew up with it, so there was a tug of war. They wanted it really updated, and I can only update it a little before it isn't "Popeye" anymore. To be truthful, it was in the middle of the Sony hack and the studio was really struggling. It was just really bad timing.
That's a completely reasonable explanation for why Tartakovsky left Popeye. A year ago we got our first-look at the film, and watching this test-footage again, the playfulness, the physical comedy, and the period setting doesn't scream "modern."
With or without Tartakovsky, this project will get made. It's difficult to say if the character is still relevant anymore, at least for kids, so the trepidation on Sony's part is understandable. But would throwing a bunch of pop culture references into a Popeye movie really make a difference? There's ways to introduce the character to a modern audience without modernizing the character. The old school quality of the brawny hero is what's appealing about Popeye in the first place. Obviously we'll never see the character again with his signature pipe, especially in an animated movie, but if you're going to make a Popeye movie, why not make it an actual Popeye movie? Based on this footage, that was Tartakovsky's intention.
Of course a modernized Popeye could work, but it's too bad the Hotel Transylvania director isn't getting the opportunity to make his vision of the film. Whenever he works on a personal project, like Samurai Jack, that's when his best work happens — and his next film is, according to the director, personal. Tartakovsky might make Can You Imagine? next, which has been described as "a fantastic journey through one boy's imagination." 
Hotel Transylvania 2 is now in theaters.