Sequel Bits: 'Spectre', 'Cabin In The Woods', 'Resident Evil: The Final Chapter', 'Alice Through The Looking Glass'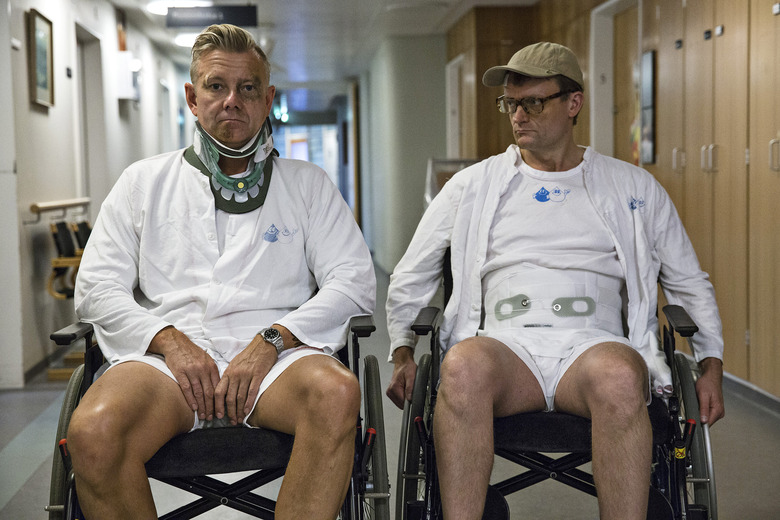 We've got a lot of ground to cover today, so let's hit it. After the jump:
Get details on the Mission: Impossible – Rogue Nation home video release
The Olsen twins are "always welcome" to drop by Fuller House
Drew Goddard says the studio really wanted a Cabin in the Woods 2
Mia Wasikowska says the Alice in Wonderland sequel has less CG
Drafthouse Films picks up Klown Forever for distribution in the U.S.
Now Homeland's Damian Lewis is the subject of "next James Bond" rumors
Exactly how many Aston Martin DB10s were destroyed in the making of Spectre?
Blade Runner 2 director Denis Villeneuve would like to make a Bond film
The Art of Kung Fu Panda 3 reveals another look at the sequel
The cast of Resident Evil 6 shares more photos from the set
***
Paramount Home Media Distribution has announced Mission: Impossible – Rogue Nation will hit Digital HD November 17, followed by release on Blu-ray Combo Pack, DVD, and On Demand December 15. Or if 131 minutes isn't nearly enough Ethan Hunt for you, the Mission: Impossible 5-film Blu-ray collection also hits on the same date.
The Mission: Impossible – Rogue Nation Blu-ray will be loaded up with special features including a commentary by star Tom Cruise and director Chris McQuarrie, and several featurettes. Check out the Mission: Impossible home video cover art below, and hit IGN for all the details.
***
Nearly the entire core cast of Full House is returning in some capacity for Fuller House, Netflix's follow-up series, with two glaring exceptions: Mary-Kate and Ashley Olsen, who together played youngest Tanner kid Michelle. But should they ever decide to rejoin the family, John Stamos says, they'll be welcomed with open arms.
The actor told Matt Lauer (via TheWrap):
They're fully welcome any time. I love them. There was a lot of, I think, miscommunication in the press and stuff. I understood why they didn't want to come back. They just have big lives, and haven't acted in a while. But I love them dearly and they're always welcome on our show.
The Olsens are pretty busy with their high-powered fashion careers these days, and neither has acted in several years. So while Stamos might be eager to have them back, we wouldn't advise holding your breath.
***
There's no Cabin in the Woods 2 in the works at the moment, but according to director Drew Goddard the studio certainly wishes there were. "The studio wants to do it. They've come to us," he told Den of Geek. "The funny part is, I don't think we planned that movie to do a sequel, you know?"
Goddard acknowledges that the ending of the first film doesn't leave an obvious setup for a sequel. However, he continues:
But that being said, the fun thing about Cabin is, the rules are pretty crazy. We get away with a lot of crazy stuff. So, I'm sure we could figure it out if we got inspired to. I know Joss [Whedon] and I both feel like we don't want to tarnish what we did with the first one. With a sequel, we'd only do it if it made us laugh hard enough, I suppose.
Goddard has previously said he'll only do a Cabin in the Woods 2 if he comes up with a really great idea, and he reiterates that point here. "There's nothing in the hopper right now, but who knows?" he said. "The way Joss and I work, we might wake up tomorrow and go, 'let's go do that,' or whatever."
***
One of the disappointing things about Tim Burton's Alice in Wonderland was the way it felt like a green screen movie. So it's a relief to hear the sequel might take a slightly more practical approach, as hinted by actress Mia Wasikowska during a Crimson Peak event in Rome. (Note: All quotes from here on out have been translated from Wasikowska's English to Italian and then back into English via Google Translate.)
Asked why she decided to return for Alice Through the Looking Glass, Wasikowska laughed that she had "no choice," citing her contract. However, she continued, "This time the project is a bit different. There is another director [James Bobin] and the approach will be different, with much less CG and many more concrete things to interact with on set."
Alice Through the Looking Glass opens May 27, 2016.
***
Drafthouse Films released the Danish comedy Klown in 2012, and now it's returning to put out the sequel. Klown Forever brings back director Mikkel Nørgaard and stars Casper Christiansen and Frank Hvam, picking up five years after the events of the first film. Casper has moved to Hollywood, which strains his relationship with Frank, so Frank follows Casper in an effort to rekindle their friendship.
The dark comedy isn't for everyone, but if Drafthouse's description — it's "as though Lars von Trier were directing an especially mortifying episode of Curb Your Enthusiasm" — intrigues you, it's probably worth a look. Klown Forever opened in Denmark this month, and will get a limited theatrical rollout and a Blu-ray / DVD release in the U.S. this year.
***
On the next page, lots of Bond news, a look at the Resident Evil: The Final Chapter set, and some cute Kung Fu Panda 3 art.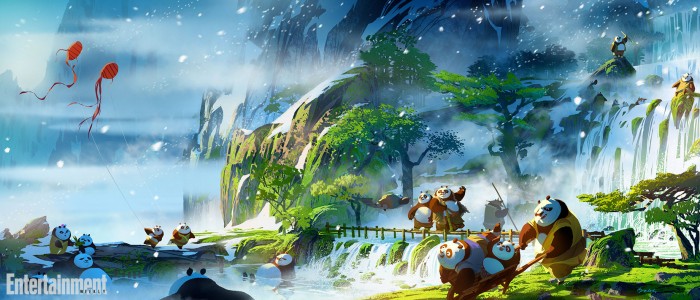 Is anyone else starting to feel sorry for Daniel Craig? Spectre isn't even in theaters yet, and all the Internet wants to talk about is who should replace him as the next James Bond. Anyway, the latest subject of 007 rumors is Damian Lewis, best known to American audiences as Nicholas Brody from Homeland.
According to The Mirror, Lewis has been given the "unofficial nod" as the top choice to replace Craig if he steps down. We'd suggest you take it with a grain of salt, considering the source. (Though "U.K. tabloid" is still one step above "U.K. bookies.") It's also worth pointing out that Lewis, at 44, is only three years younger than Craig, and Sony is likely to want someone who can stick around a while.
***
There's no question Spectre is an expensive film, but apparently just the cost of ruined cars in this movie is more than the entire budget of many movies. According to The Daily Mail, the production has blown up £24 million worth of cars (about $36 million USD, if you ask Google). That total includes seven Aston Martin DB10s, out of ten total. You can see all this very expensive destruction when Spectre opens November 6, 2015 in the U.S.
***
Denis Villeneuve is about to dig into Blade Runner 2, the follow-up to Ridley Scott's sci-fi classic. However, there's another beloved property he'd love to get his hands on, as he told Coming Soon:
I was raised with James Bond. I love James Bond movies. I would love to do a James Bond movie one day. Action is very cinematic. I'm not someone that loves dialogue – I am someone that loves movement. Action, if it's well done, can be very poetic and meaningful."
Meanwhile, Sam Mendes has said Spectre will be his last Bond film. So who knows? Villeneuve may get his chance yet.
***
We've still got four months to wait Kung Fu Panda 3, so in the meantime let's have a look at some concept art from the movie. The Art of Kung Fu Panda 3 book, due out December 15, is a treasure trove of new art and details about the animated threequel. Tracey Miller-Zarneke wrote the book, with a foreward by Rebel Wilson (though we wonder if that part will change, seeing as she's been replaced by Kate Hudson).
Ooh and ahh over the artwork below, then head over to Rotoscopers for more new details from the film. (Possible spoilers ahead.)
Directed by Jennifer Yuh Nelson and Alessandro Carloni, Kung Fu Panda 3 lands in theaters January 29, 2016.
***
The world of Resident Evil: The Final Chapter may be a grim and gritty place, but the set looks much more lighthearted. Just look at these photos from the set, courtesy of stars Milla Jovovich, Ali Larter, Eoin Macken, William Levy, and Rola.

Resident Evil: The Final Chapter, which really and truly will be the series' final chapter, opens January 27, 2017.