See New Footage In 'The Jungle Book' Russian Trailer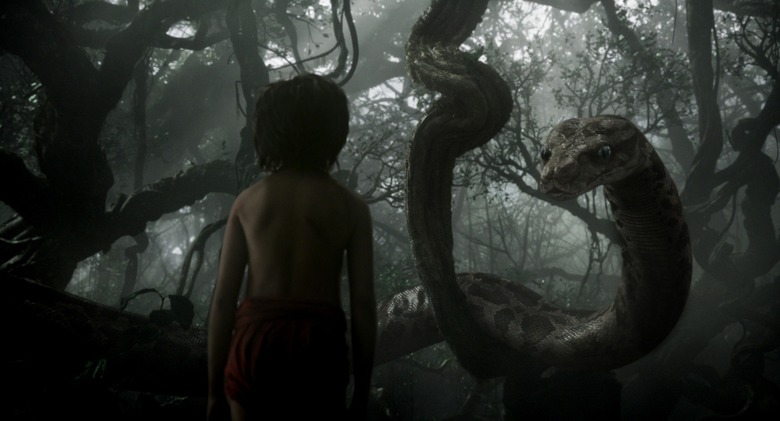 These live-action updates just keep coming. Disney has found massive success with reimagining their classic animated films, so obviously they're going to keep going back to the well. The studio's latest update is maybe their most ambitious remake to date. If the The Jungle Book Russian trailer is any indication, director Jon Favreau has some pretty high aspirations for the film.
Newcomer Neel Sethi stars in the film as Mowgli, and he's supported by a not too shabby voice cast, including Idris Elba, Bill Murray, Ben Kingsley, Scarlett Johansson, Christopher Walken, and Lupita Nyong'o. The domestic trailer for The Jungle Book was light on dialogue, with the exception of the sound of Johansson's python Ka attempting to lure in Mowgli (Neel Sethi). For fairly obvious reasons, at least so far, Disney is selling this movie based on the spectacular CGI. The Jungle Book Russian trailer sticks to that formula, except it shows a few more glimpses of the world Favreau and his team have created.
The Jungle Book Russian Trailer
There's a lot of CGI in this trailer, but it's almost hard to believe that 99% of the animals and environments were created by CG. Favreau shot the entire film in Los Angeles, and it doesn't show in the trailer. Even with these unfinished special-effects shots, the world and animals are believable. Maybe they're not photo-realistic, but the aesthetic and creatures are tangible in this two-minute trailer.
As far as the Disney remakes go, Alice in Wonderland, Oz: The Great and Powerful, and Maleficent all lived in the uncanny valley. Although the cartoonish aesthetic worked in Sam Raimi's film, in the case of the other two remakes, the CG-heavy environments were distancing. What Alice in Wonderland and Maleficent failed to pull off looks to be where Favreau is thriving.
This Russian Jungle Book trailer does have some cause for concern, though. Does anyone know what Christopher Walken's King Louie will sound like in Russia? If the Russians don't get a Walkeny King Louie, then they're seriously at a loss.
Here's the official synopsis for Disney's live action The Jungle Book:
Directed by Jon Favreau ("Chef," "Iron Man," "Elf"), based on Rudyard Kipling's timeless stories and inspired by Disney's classic animated film, "The Jungle Book" is an all-new live-action epic adventure about Mowgli (newcomer Neel Sethi), a man-cub who's been raised by a family of wolves. But Mowgli finds he is no longer welcome in the jungle when fearsome tiger Shere Khan (voice of Idris Elba), who bears the scars of Man, promises to eliminate what he sees as a threat. Urged to abandon the only home he's ever known, Mowgli embarks on a captivating journey of self-discovery, guided by panther-turned-stern mentor Bagheera (voice of Ben Kingsley), and the free-spirited bear Baloo (voice of Bill Murray). Along the way, Mowgli encounters jungle creatures who don't exactly have his best interests at heart, including Kaa (voice of Scarlett Johannsson), a python whose seductive voice and gaze hypnotizes the man-cub, and the smooth-talking King Louie (voice of Christopher Walken), who tries to coerce Mowgli into giving up the secret to the elusive and deadly red flower: fire.
The Jungle Book opens in theaters April 16th, 2016.