'Enchanted' Sequel Still In The Works Under New Title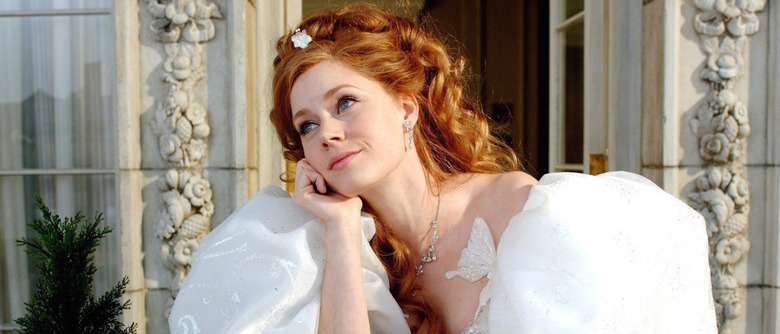 Disney has been trying to get an Enchanted sequel off the ground for some time now, and eight years after the original film opened they still don't have much to show for it. But a new report assures us that not only is it starting to pick up, it's got a new working title. Find out what the Enchanted sequel title is, and get the latest update on the film, after the jump. 
According to Collider, the Enchanted sequel title is Disenchanted. It's just a working title right now, so it could change between now and whenever the film hits theaters. But here's hoping it doesn't because that's a pretty fantastic name. In addition, the site has heard that Disney "is now in the process of punching up the script with the hopes that it will be in greenlight-ready shape very soon."
Disney had hopes of turning Enchanted into a franchise before the movie even opened, but actual progress on the sequels has been slow-moving. The last update we got was last year, when Shrek 2 and The Smurfs writers J. David Stem and David N. Weiss signed on to write the screenplay. Jessie Nelson (Stepmom) wrote an earlier draft. Anne Fletcher (The Proposal) is still attached to direct, as she has been for the past five years.
Directed by Kevin Lima and written by Bill Kelly, the original Enchanted starred Amy Adams as Giselle, the beautiful fiancée of Prince Edward (James Marsden). His evil mother (Susan Sarandon) sees Giselle as a threat to the throne, so she banishes the naive girl from the animated fairy tale land of Andalasia to live-action New York City. Once there, she meets and begins to fall for a jaded divorce lawyer played by Patrick Dempsey.
Enchanted smartly updated the classic Disney fairy tale tropes without negating them completely, with help from some very committed performances. (Marsden's hilariously gallant Prince Edward might be the best work of his career.) It was a hit critically and commercially when it opened in fall 2007, earning $340 million worldwide and a trio of Oscar nominations for its original songs by Alan Menken.