Why Steven Spielberg Always Wanted To Tell The Wright Brothers Story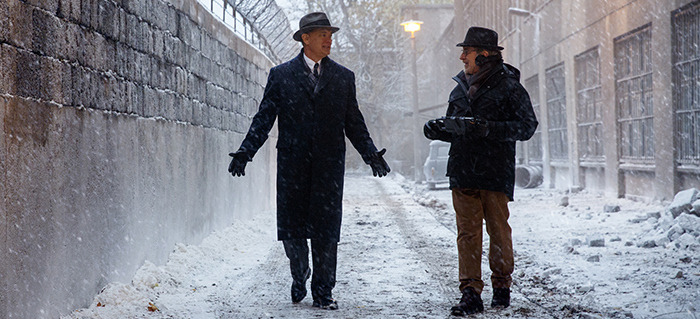 Steven Spielberg's Cold War thriller Bridge of Spies is out in a few weeks, but while promoting it he revealed there's another historical story he's been itching to tell. The director confessed he's "always wanted" to do a project about Orville and Wilbur Wright, credited with inventing the first airplane at the turn of the 20th century. Find out why after the jump. 
During a Twitter Q&A, Spielberg and Bridge of Spies star Tom Hanks were asked what historical figure or premise they'd want to tackle next. Spielberg's answer begins below around 0:50. (Hanks' answer, for the record, is that he wants to make a movie about the formation of Alcoholics Anonymous.)
.@ethandlevy asks: What historical figure/premise would you like to take on next? #BridgeOfSpies http://t.co/iaN6trne6v

— Bridge Of Spies (@BridgeofSpies) September 28, 2015
Or if you'd prefer, here's the Steven Spielberg Wright brothers quote transcribed:
I've always wanted to go back to history and tell a story about the Wright brothers. I've been endlessly compelled since childhood about how we got off the ground for the first time. And I'd love to get into their noodles to figure out how they figured it out.
In fact, Spielberg already has plans for a Wright Brothers project. Back in April, HBO announced it had picked up the rights to David McCollough's nonfiction tome The Wright Brothers, with the intention of turning it into a miniseries produced by Spielberg and Hanks' Playtone Productions.
However, his wording here makes us wonder if he's also got designs on directing a Wright brothers movie. World War II dramas Empire of the Sun and Saving Private Ryan didn't preclude Spielberg from making Band of Brothers and The Pacific for HBO, so maybe there's room for him to produce a Wright brothers miniseries and direct a Wright brothers film, too.
Even if that's the case, though, it'll be a while before any such movie gets going. Spielberg is simultaneously promoting Bridge of Spies, finishing up The BFG, and preparing Ready Player One. And Spielberg being Spielberg, he's got no shortage of other potential directing projects after that.