AMC Announces 'Fear The Walking Dead' Companion Web Series 'Flight 462'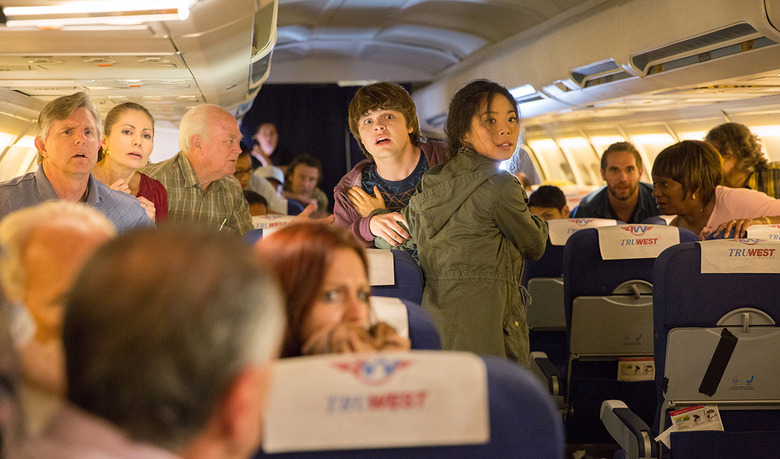 The Walking Dead spinoff is getting its own spinoff. AMC has officially announced Fear the Walking Dead: Flight 462, a companion web series to Fear the Walking Dead. The news comes just as Fear the Walking Dead shuffles toward its first season finale. Get all the details on the Fear the Walking Dead web series after the jump. 
News of Fear the Walking Dead: Flight 462 first broke last month, but the new announcement has more details. The first installment will land Sunday, October 4 on AMC.com, and then air as promos during two commercial breaks within The Walking Dead Season 6 premiere on Sunday, October 11.
Subsequent episodes will hit each Sunday during each new episode of The Walking Dead Season 6, as well as on the website. In all, Fear the Walking Dead: Flight 462 will consist of 16 episodes of less than one minute each. Here's a description of the plot (via AMC):
Fear the Walking Dead: Flight 462 tells the story of a group of passengers aboard a commercial airplane during the earliest moments of the outbreak. Over the course of the series, the plane and the lives of its passengers are put in jeopardy once they discover an infected traveler.
The web series produced by produced by Fear the Walking Dead showrunner and executive producer Dave Erickson and co-executive producer David Wiener. L. Signorino and Mike Zunic wrote the series, and Fear the Walking Dead DP Michael McDonough directs. One character who survives the Flight 462 ordeal will join the cast of Fear the Walking Dead in Season 2, but we don't yet know which one.
Fear the Walking Dead has been a big hit for AMC, which is no surprise considering how popular The Walking Dead still is. It wraps up its six-episode first season this Sunday. A webseries should be a fun way to remind The Walking Dead viewers that they really want to tune in for the 15-episode second season when it lands in 2016.